Prospect Nurturing to Generate Clients
6-minute read | 8 minute listen
Let's say you want to start a vegetable garden. You buy the seeds and put them in the ground, but you can't expect a bunch of ripe tomatoes the very next day. You need to nurture those tomato seeds to get some fruit.
The same thing goes for your financial adviser marketing efforts. You can't generate leads, leave them to their own devices, then expect a sale. You need to nurture those leads to get loyal clients.
Lead generation is your first point of contact with a potential client, but lead nurturing is what builds that meaningful client-adviser relationship. Showing your potential clients you genuinely care for their well-being by producing helpful, empathetic content will help you increase sales, build relationships, and foster trust.

Lead Generation vs. Lead Nurturing
Lead generation is the process of alerting potential clients to who you are and what you have to offer through social media ads, organic (unpaid) posts, emails, and in-person events. A potential client becomes a lead when they give you their contact information, usually in exchange for something that will help them improve their financial literacy (e.g., an article, an ebook, etc.).
But a lead isn't an instant win—it's a starting point. After you get your lead's contact information and add it to your email list, you need to nurture that lead by having conversations with them, showing them that you care, and proving that you can solve their specific problems.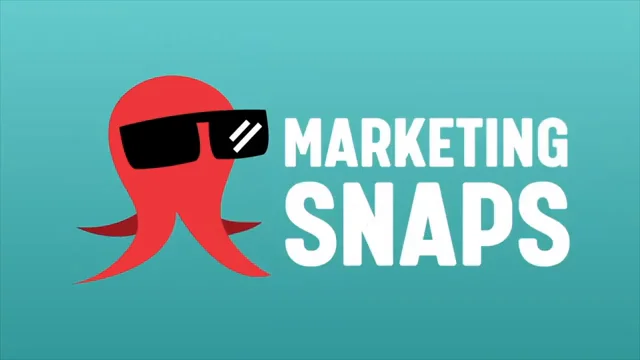 The moment a lead gives you their contact information, you need to introduce yourself and let them know how you can add value to their life. You also need to make yourself available as a resource—when leads ask questions, they expect an immediate response.
The best way to prove to leads that you know your stuff is by sharing content that speaks directly to their problems. This can mean periodically sending your prospects educational information in the form of newsletters, articles, videos, and ebooks. It can also mean giving them the opportunity to set up a quick consultation call so you can answer their questions (no selling yet)!
Our research found that 20.58% of people who see your lead magnet will need more than two interactions to give you their contact information. So don't give up if you don't get a conversion immediately; keep nurturing your leads for at least 90 days to get the best results.
Lead Nurturing Doesn't Have to Be Hard
Lead nurturing can seem intimidating since no financial adviser has time to send personalized emails to everyone on their contact list. On the other hand, advisers are wary of automated lead nurturing because you don't want to flood your leads' inboxes with spammy, irrelevant emails. But it is possible to craft targeted nurturing campaigns that feel personal without requiring hours of effort.
Don't Send Daily Emails
The top three reasons why leads unsubscribe from a company's email list are that they get too many emails in general, the emails they receive are irrelevant, and they get too many emails from that specific company.
The lesson here is that you don't need to send emails every day—once or twice a week is plenty. It's much better to emphasize quality over quantity, so focus on crafting conversational, relationship-building emails relevant to your specific lead.
Automate the Process
The secret to easy lead nurturing is automation—and 51% of companies are already doing it.
Segment your leads based on what lead magnet (i.e., the ebook, a checklist, etc.) they download and set up email triggers so that you "respond" to leads within five minutes. For example, if they download an ebook on setting up a trust fund, send them an automated email that shares further resources and invites them to set up a consult. After all, if this lead is interested enough in a subject to share their email with your company, this concern is probably top of mind for them.
With automated lead nurturing, you only need to spend three to four hours a month on your marketing and still drive massive results.
One of our members, Vertex Capital Advisors, runs multiple automated campaigns that generate leads—they got a high net worth client from their first campaign! And because everything is automated, they only spend one hour on content creation per month.
Get More Clients With These 4 Lead Nurturing Best Practices
1. Create Different Lead Nurturing Sequences for Different Segments
Your leads have different pain points, and your campaigns need to speak to their specific concerns instead of sending the same content to everyone. Show your leads that you know what they're going through and that you can help.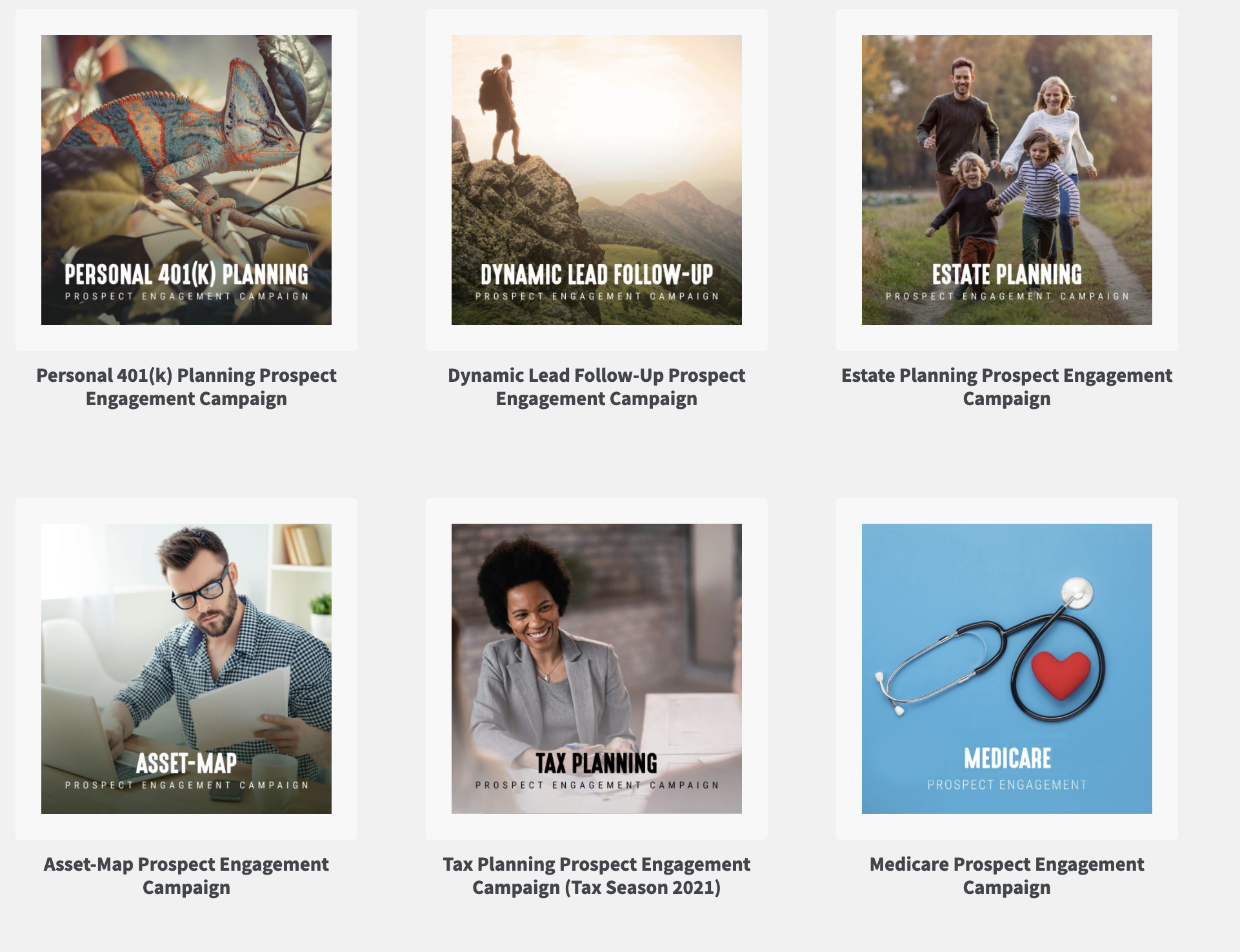 For example, if one of your prospects is looking at retirement planning, don't nurture them with emails asking about their plans to save for college.
Shakun Bansal, Head of Marketing at Mercer Mettl, stressed the importance of segmenting leads: "For effective lead generation, it's imperative to have strict filters of lead qualification that will eventually culminate into better lead nurturing and conversion rates as you learn from your clients—what they need and how well your products fit their needs."
2. Be Consistent
You're asking leads to trust you with their money. To earn that trust, you need to establish yourself as a consistent presence in their inbox.
Set up email campaigns with preset time intervals, so you're consistent with your communication. For example, you can set up your campaign to send an introductory email after they answer your lead form and then another one in three days simply asking how they're doing. And then another one in a week to send even more valuable information.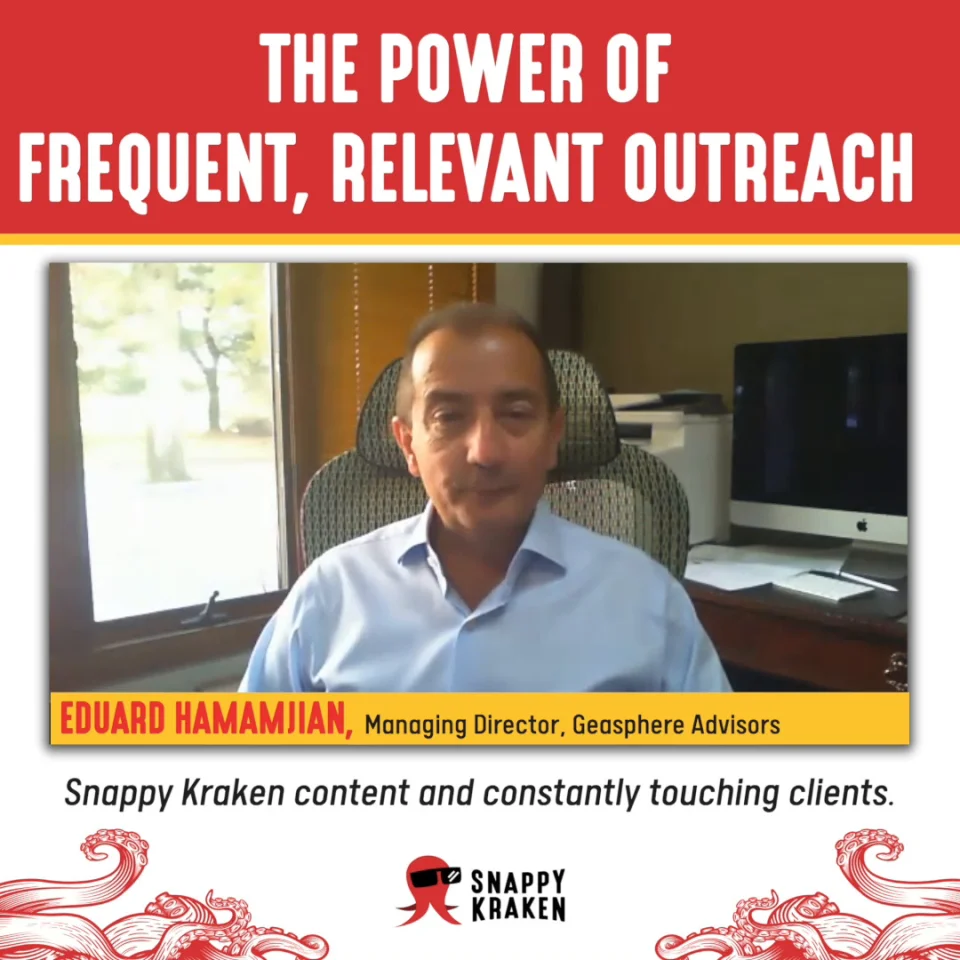 Eduard Hamamjian, Managing Director at GeaSphere Advisors, shared how consistently communicating got results because it reassured its clients of its reliability and availability. "The Snappy Kraken model worked, I would say particularly well," he said, "because we were constantly putting out Snappy Kraken content and constantly touching clients. Reassuring them. For us, it really turned out to be quite a boom. We grew substantially during this period of time. Gained 50 new clients."
3. Create A Funnel For Prospects Who Have Gone Cold
Just because you haven't heard from a lead in a while doesn't mean that they don't need your services anymore. Only 10% to 15% of leads turn into sales, which means there's a huge opportunity to re-engage at least 85% of people who have come into contact with your brand.
Hannah Buschbom, CFP® and CDFA™, Partner and Wealth Advisor at AmeriFlex® Financial Services, told us about how re-engaging cold leads has worked for her. "I had two prospective clients who went completely cold on me," she said. "As soon as I sent my first Snappy Kraken campaign, they turned into actual clients. The best part? They more than covered the costs of using Snappy Kraken for the year."
4. Personalize Your Lead Nurturing Content
Emails that are customized for the recipient have higher engagement rates. Personalized subject lines increase open rates by 26%, and personalized emails have a 41% higher click-through rate compared to non-personalized ones.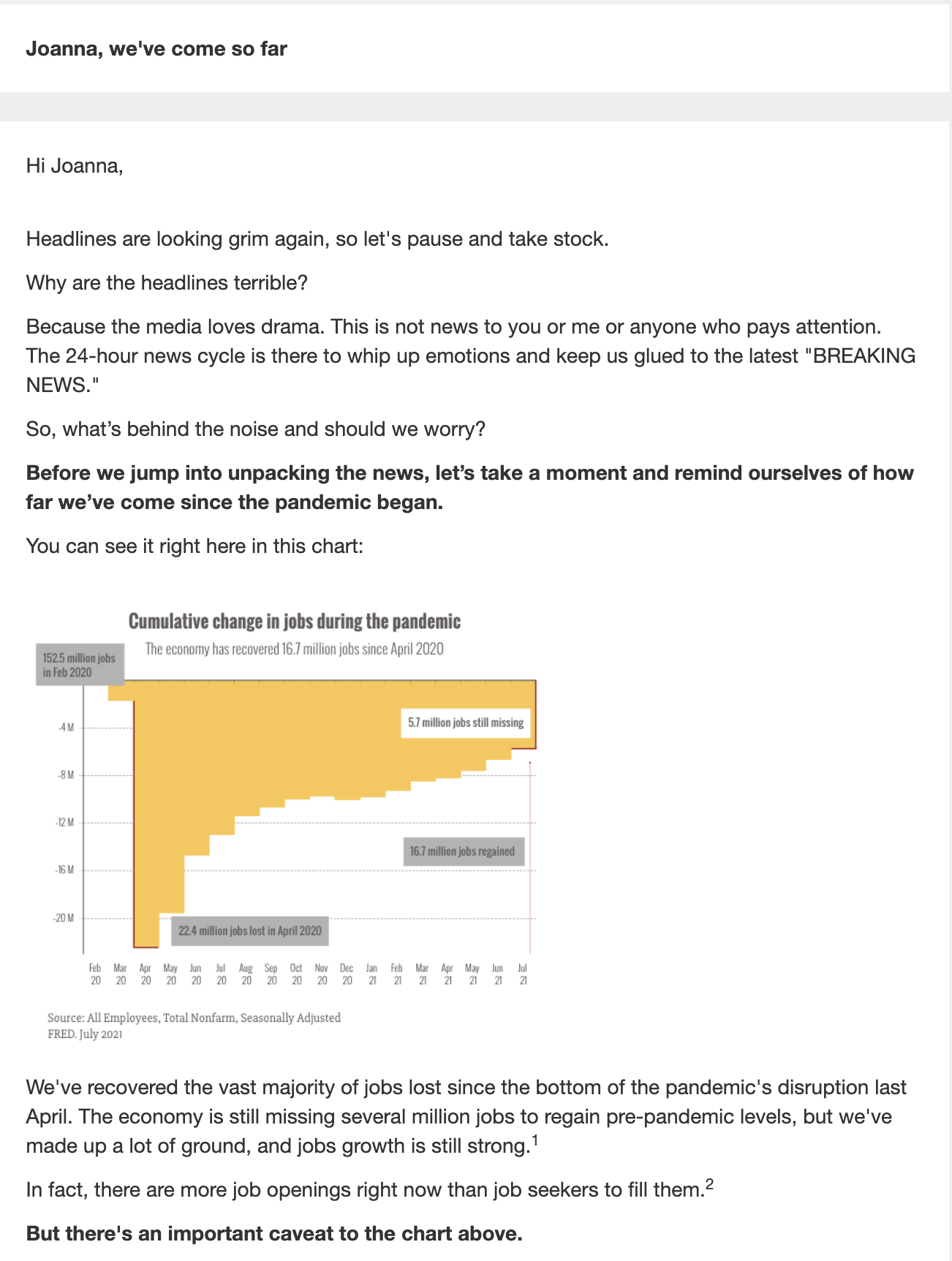 Program some of your subject lines to contain names or your leads' interests. For example, you can program a subject line to be, "[Name], how is your [lead magnet] going?" That subject line could be either, "Chad, how is your retirement planning going?" or "Donna, how is your college fund going?"
Eighty percent of consumers say they are more likely to purchase from service providers who offer personalized experiences. Showing your leads that you care about them on a personal level can help you build that connection to potentially get a conversion.
Jon Bicknell, Certified Financial Planner at Cetera Advisors LLC, automated and personalized his email campaigns with Snappy Kraken and was surprised by how well they worked:
"It's the first time that I've had people that I do not know actually respond to a campaign like that. It's a riot when people get hit with the marketing-obvious emails and then you guys hit them with, 'Hey Christine, are you still interested in Social Security and retirement income plans?' And then they're like, 'Yeah, you know actually I kind of am!' I didn't send that, it's totally automated!"
Save Time And Get More Results With Lead Nurturing Software
Lead nurturing is an effective marketing strategy across industries, but it's particularly important for financial advisers. Clients rarely make big financial decisions lightly, so it's on you to patiently build their trust. But being patient doesn't mean that lead nurturing needs to take up all your time; by automating your financial adviser marketing, you can get results by investing a couple of hours per month.
Get better prospects and delight your clients without spending hours on your marketing with Snappy Kraken's thoughtfully created, fully automated marketing campaigns. Book a call with us to chat about how we can make your marketing pop.
Wondering if Snappy Kraken is right for you?
Done-for-you content
Easy Automation
Proven Results
Cold to Gold Framework
The Cold to Gold Masterclass is your marketing manual. It shows advisers the proven framework for keeping their pipeline full, the types of campaigns that warm up prospects the fastest, and what the top 25% of advisers do differently in their marketing.
Read Full Program
Robert's Masterclass
The Blend Out Masterclass is your predictable and scalable framework, proven to give you results. In this series, Snappy Kraken CEO, Robert Sofia, will give you 3 powerful memory aids to hijack your brain, the one major factor that separates success from failure, and more.
Explore Classes