[NEWS] The 2022 Jolt! Awards Winners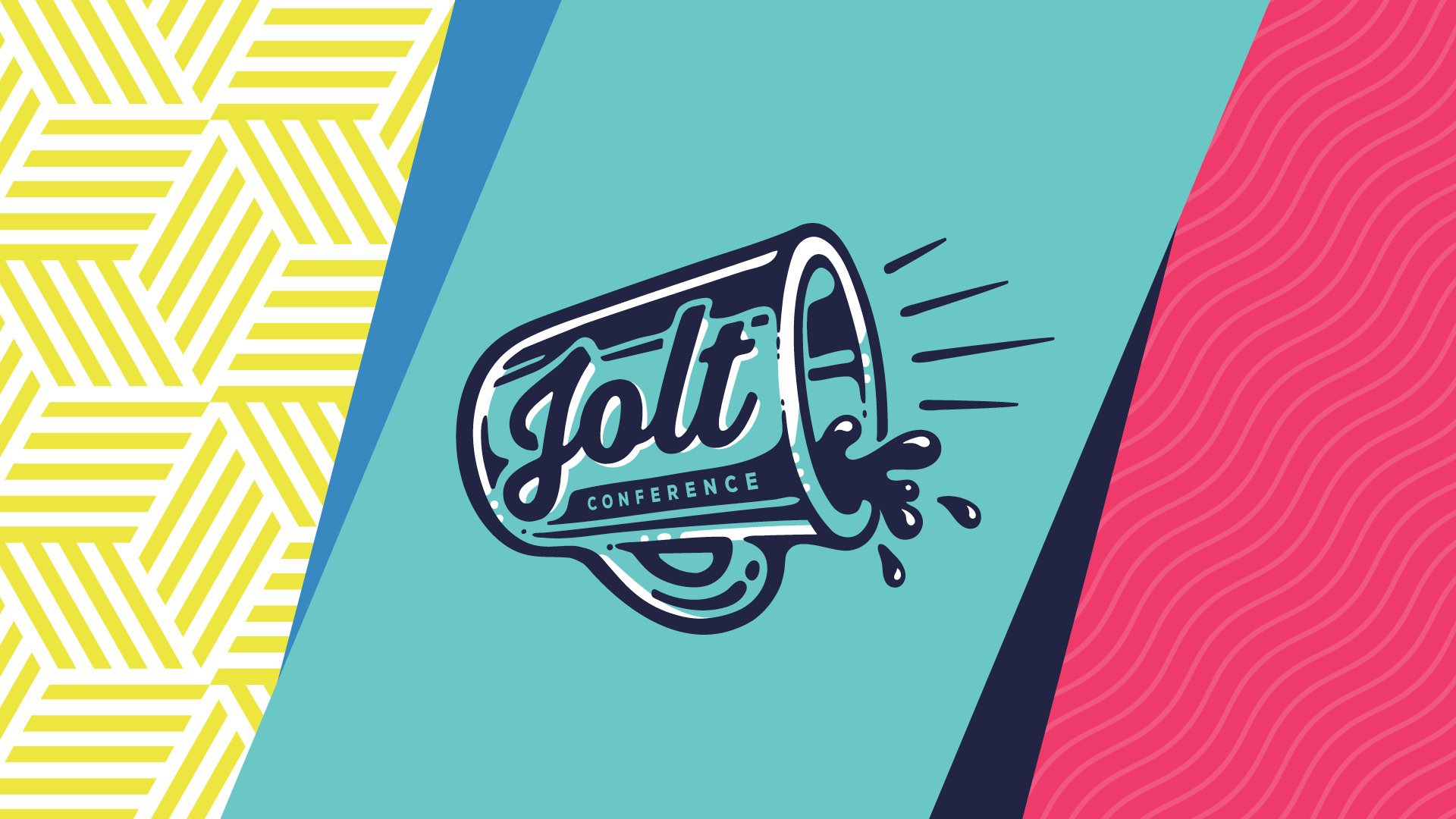 The 2022 Jolt! Awards have just been announced – and this year's winners are truly raising the bar.
Read on to learn about our top ten winners, what they've accomplished, and why they've been chosen as top-tier marketers in the finance industry.
What are the Jolt! Awards?
The Jolt! Award is an annual honor that recognizes the best marketing campaigns, branding, or other PR initiatives in the financial advisor or advisor-tech space. These are the campaigns that are fresh, unique, effective, and genuinely jolting.
The vision behind this award is to encourage continuous elevation in the quality of marketing by recognizing a higher standard for all of us to strive toward. At the heart of it all, we're looking to recognize the best of the best, and to raise the bar in the process. That's why a Jolt! Award can be given to either individuals or companies – there's no cap on creativity and innovation.
The best part? The Jolt! Awards have no room for politics or self-nominations. Winners are selected by a top-secret committee of industry thought leaders. You can't buy a win, and there are no sponsors. And because we don't believe in limiting greatness, the number of awards is determined only by the number of awesome acts of marketing in our industry.
Presenting the 2022 Jolt! Award Winners
Ladies and gents, get your drum rolls ready – because Snappy Kraken is proud to present the freshest of the fresh, the true trailblazers, the most enthusiastic of innovators: Here are your 2022 Jolt! Award winners.
Bull & Bear Cereal (Potomac)
Want some nineties nostalgia to go with your breakfast this morning? Look no further than Potomac Fund's Bull Bear Cereal.
What it's about:
Potomac elevated their marketing with a flavor for fun, producing a commercial to advertise their investment insights and advisor-friendly platform. CMO Christopher Norton leans into every-parent's reality with a charming cereal campaign – starring his adorable son chowing down on a bowl of Bull Bear Cereal. Flaky goodness? Check. Good ol' fashioned family fun? Double check.
Why we love it:
Nothing hits a marketing home run more than authenticity, and Potomac's Bull Bear commercial hit it out of the park. With an easily-digestible video format and an extra dash of relatability, we're left wondering: how can we get our hands on a box of Bull Bear?
Human Advisor Series (Altruist)
Altruist is putting people at the forefront with their podcast series, The Human Advisor.
What it's about
Conversations around money can feel stale and removed – but not at Altruist. They're bringing unique and personal stories to the forefront of financial discourse in their new podcast, The Human Advisor, now hosted by Dasarte Yarnway.
Original host Tyrone Ross explained the show's purpose simply in episode one of the series: it's all about storytelling.
Why we love it
Money talk can often feel stale and removed – by giving individual advisors and industry leaders a space to share their personal journeys into finance, Altruist is breathing life back into the conversation.
With Ross' upbeat personality and casual approach to questioning, the show is paced just right for a listen on your morning run or daily commute.
WealthTech Madness (Three Crowns)
Everyone loves a little friendly competition, and Three Crowns' WealthTech Madness knows how to do it right.
What it's about
2022 marked the second installment of Three Crowns' WealthTech Madness, a play on that other (litigious) competition in March. The 16-company tournament involved four rounds of open voting, with each winner moving up to the next round until all but one company had been eliminated.
The winner takes home a slick sticker to add to their website, as well as social media bragging rights galore.
Why we love it
What better way to get everyone in on a little fun? Three Crowns' sweet 16 involved some of the best and brightest companies in the advisor-tech sphere, inviting them to bring their A-game. Between the social media smack-talk and ample sports analogies, we'd call this tourney a slam-dunk.
Choir Pledge (Choir)
Everyone in finance has heard of the "pale and male" problem, but Choir is actually doing something about it – starting with their Choir Pledge.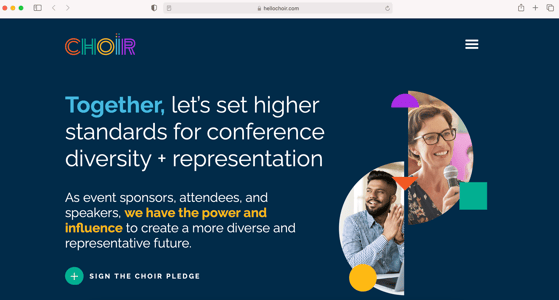 What it's about
The Choir Pledge is a public set of standards used to assess financial conferences based on diversity and representation. Attendees, speakers and even sponsors can sign the pledge, in which they publicly commit to only supporting conferences that meet these minimum requirements, which include:
At least 1 in 3 speakers being women or a person of color
Every 4+ person panel includes a woman or person of color as a non-moderator expert
Women of color are represented throughout the sessions, and invited to speak on more than just diversity and exclusion
There is an enforced no-harassment policy in place
Conferences that meet these requirements are then "Choir-certified."
Why we love it
Talking about diversity problems is step one, and it's often overlooked. Actually taking steps to fix those problems? We're already star-struck.
Choir is tackling these issues head-on, while also inviting every single person in the finance industry to step up and join the cause, and that's a call-to-action we can get behind.
200 Optimistic Tweets (Michael Baker)
Sick of the negativity running amok in your digital spaces? Check out Michael Baker, a financial advisor from North Carolina.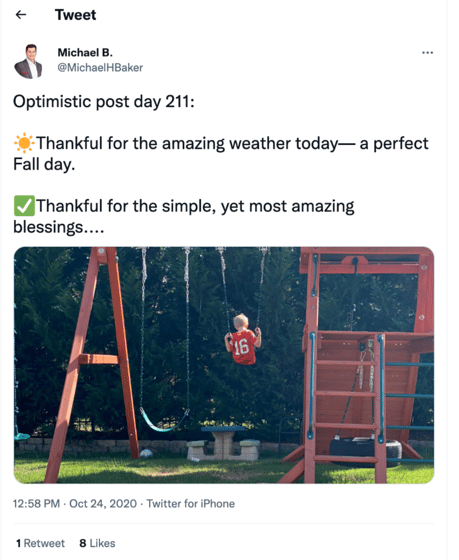 What it's about
Michael Baker is many things: financial advisor, former model, blackbelt – and optimist. Twitter might be known as the seedy underbelly of social media platforms, but Baker is here to change that.
Back in 2020, he began a one-man campaign to transform his Twitter feed, pledging to post at least one optimistic tweet every single day. From good weather to holiday fun, Baker always found something to celebrate.
Why we love it
Beyond bringing some positivity to the digital space, Baker also encouraged others to join in – beginning his own mini-movement. Financial advisors replied with their own optimistic tweets. Who doesn't love a little sunshine?
Financial Video Content (Brittney Castro)
TikTok is a great place to impart your snippets of wisdom, and Brittney Castro has plenty to share.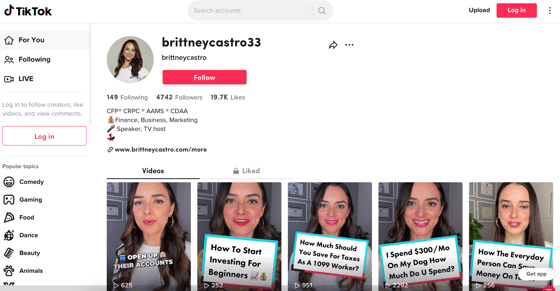 What it's about
Brittney Castro is bringing her financial knowledge to the masses – and to TikTok. Her short video clips, covering everything from how to begin investing to business succession planning, are packed with helpful and actionable tips for people in all walks of life.
Why we love it
TikTok is the latest social media platform to gain serious traction, and yet too many advisors are wary to join in on the video-based site.
Castro shows that there's a space for finance even among all the dance trends and goofy filters – people want to learn more about money. From where we're sitting, Castro's leap into the TikTok sphere has definitely paid off.
Intelligent Financial Life Campaign (Envestnet)
Envestnet's latest move? Translating data into helpful financial information for all their clients through their Intelligent Financial Life Campaign.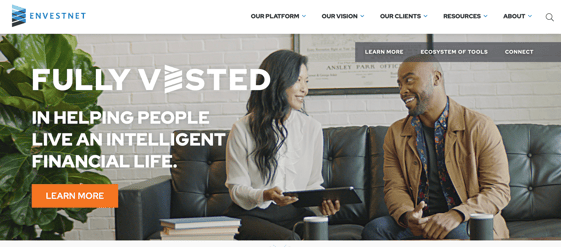 What it's about
Envestnet wants to connect all those smaller pieces of your financial life to your larger, long-term financial goals – and they're using data to get there. With a plethora of financial apps to choose from, Envestnet is setting themselves apart with a total view of an individual's finances, connecting information to help people make smart financial decisions for both now and down the road.
Why we love it
One of the most popular marketing strategies we often hear about is to find a niche for yourself in a larger industry. Envestnet is doing the opposite – broadening their strategy to appeal to the most people possible.
It's different, and it's brave, but it's also bringing in positive results. Envestnet's latest campaign goes to show that sometimes the road less traveled can also be the road to success.
AdviceTech.Live (AssetMap)
The Covid-19 pandemic put a lot of conferences on hold – but even a worldwide lockdown couldn't keep AssetMap from pulling off a stellar AdviceTech.Live event.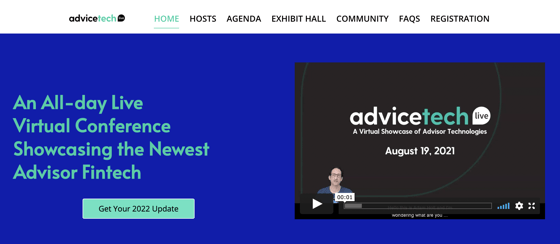 What it's about
AdviceTech.Live was a one-day, virtual event – that took place totally live. Advisor-tech companies jumped online in real time to give demos of their products straight to financial advisors and consumers.
Why we love it
AdviceTech.Live kept all the great parts about conferences: the live demos, the compelling expert speakers, and even the swag (did someone say t-shirt?). At the same time, it left behind all the pandemic struggles like masks and travel.
Sometimes innovation is the product of necessity and AdviceTech.Live is a great example of just that.
Custom Blog Photography (Meg Bartelt, FlowFP)
When it comes to choosing the images you'll feature on your site, stock pictures are the easy route to go. But if you want to create a compelling and consistent brand visual, you might want to take notes from FlowFP's custom blog photography.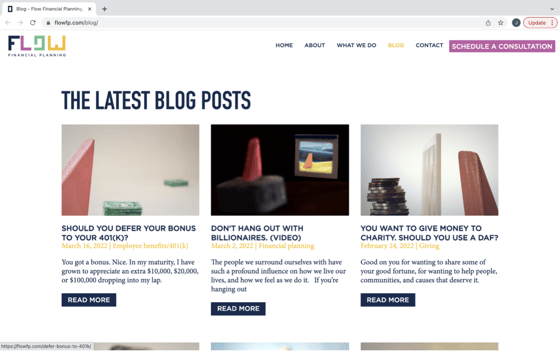 What it's about
When Meg Bartelt set out to create FlowFP, her husband Andrew offered to supply some of the images for the website. Along that journey they discovered Block Woman, a concept that would serve them well for years to come.
Scrolling through FlowFP's blog, you'll notice that each accompanying image features a little pink triangle, which serves as the placeholder for the reader.
Why we love it
We don't fault you for scrolling through stock images to pad your site, but we can definitely celebrate FlowFP's journey to invite and involve readers in through their custom imagery. Block Woman is unique and creates a visual journey for blog visitors, casting a stronger overall brand impression.
Will more financial advisors catch on to this future-forward image strategy? We hope so!
ProudMouth Rebrand (ProudMouth)
ProudMouth doesn't want to tell you what you already know – they want to help you tell the world your story.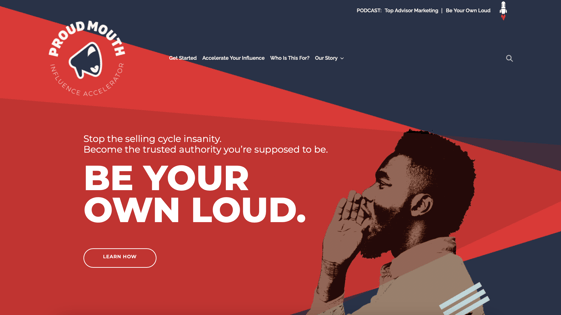 What it's about
Influencers are taking over the marketing world, but it's safe to say that the finance industry is an under-tapped market. ProudMouth is here to change that, and as part of their strategy to accelerate advisor brands, they've undergone a lil' digital makeover.
Why we love it
This slick site immediately catches your attention with a bold CTA: Be Your Own Loud. Brand updates can be tough – you want to continuously evolve, without turning off your current client base. ProudMouth offers an excellent example of rebranding done right. Take a scroll through the homepage, explore the podcast episodes, and get inspired for your next site update.
Keep Innovating with Snappy Kraken
Congratulations to all our 2022 winners! Take a victory lap! We can't wait to see what you do next year!
Here at Snappy Kraken, we love highlighting those in our industry who are leading the way and exploring new possibilities.
Wondering if Snappy Kraken is right for you?
Done-for-you content
Easy Automation
Proven Results
Cold to Gold Framework
The Cold to Gold Masterclass is your marketing manual. It shows advisers the proven framework for keeping their pipeline full, the types of campaigns that warm up prospects the fastest, and what the top 25% of advisers do differently in their marketing.
Read Full Program
Robert's Masterclass
The Blend Out Masterclass is your predictable and scalable framework, proven to give you results. In this series, Snappy Kraken CEO, Robert Sofia, will give you 3 powerful memory aids to hijack your brain, the one major factor that separates success from failure, and more.
Explore Classes