The Framework to Boost Your Marketing ROI
list of snappy kraken landin12-minute read | 16-minute listen
The average financial adviser sees an email open rate of 24.8% for their marketing emails and a landing page conversion rate of 6.2%. For the average Snappy Kraken member, those numbers are 29.5% and 9.9%, respectively. How do they do it? Simple. Using the Cold to Gold Framework.
The Cold to Gold Framework isn't an ultimate marketing guide that pretends to know more than it does. It's a six-step, data-backed marketing strategy that capitalizes on relationship-building to get you actual conversions. It's based on the principle that the most important objective of your marketing should be to build relationships, foster trust, and become the go-to resource for financial questions and services.


What is the Cold to Gold Framework?
The Cold to Framework Gold is the only marketing framework designed specifically with financial advisers in mind, backed by research and insights from the tens of thousands of campaigns we've run for our members over the years.
The framework gets results because it creates a growth loop—first, you generate a lead, next, you close a sale and turn them into a client, and then you make them so happy they turn into advocates. These happy clients start sending their family, friends, and colleagues your way, generating more leads for you to turn into more happy clients.
The Cold to Gold Framework has three phases: lead generation, lead nurturing, and advocacy.
---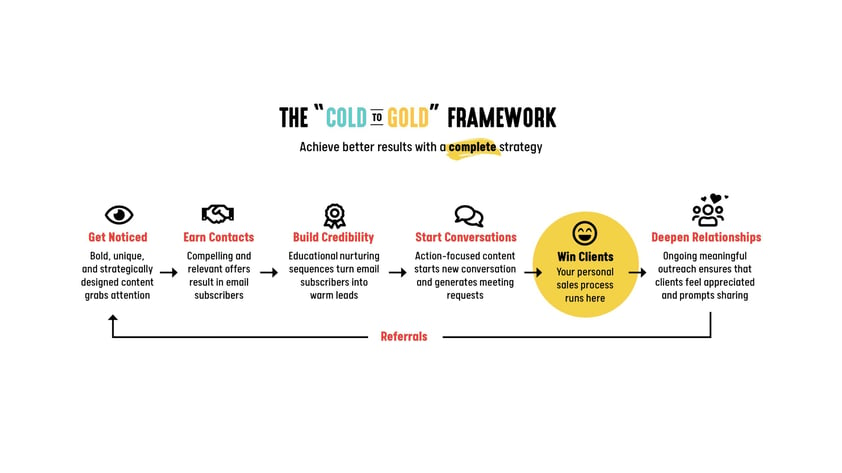 1 | The first phase of our framework is building awareness around your brand through lead generation tactics that tell people about the problem you solve and the value you add.
2 | After people become aware of your brand, it's time to build trust through lead nurturing. Taking on a financial adviser requires a lot of trust, so it's your job to show your leads that you're reliable and knowledgeable. You do that by starting conversations, sharing valuable information and resources, and being genuinely interested in their well-being.
3 | The last phase is turning clients into advocates by solving their problems, providing great service, and keeping communication lines open so they know they can count on you.
The Data Behind the Cold to Gold Framework
We built the Cold to Gold Framework using data gathered from over 32 million data points. We looked at almost 40,000 digital marketing campaigns run by financial advisers and firms in 2020 across all 50 US states (we created the same report in 2019, so we have historical data, too).
---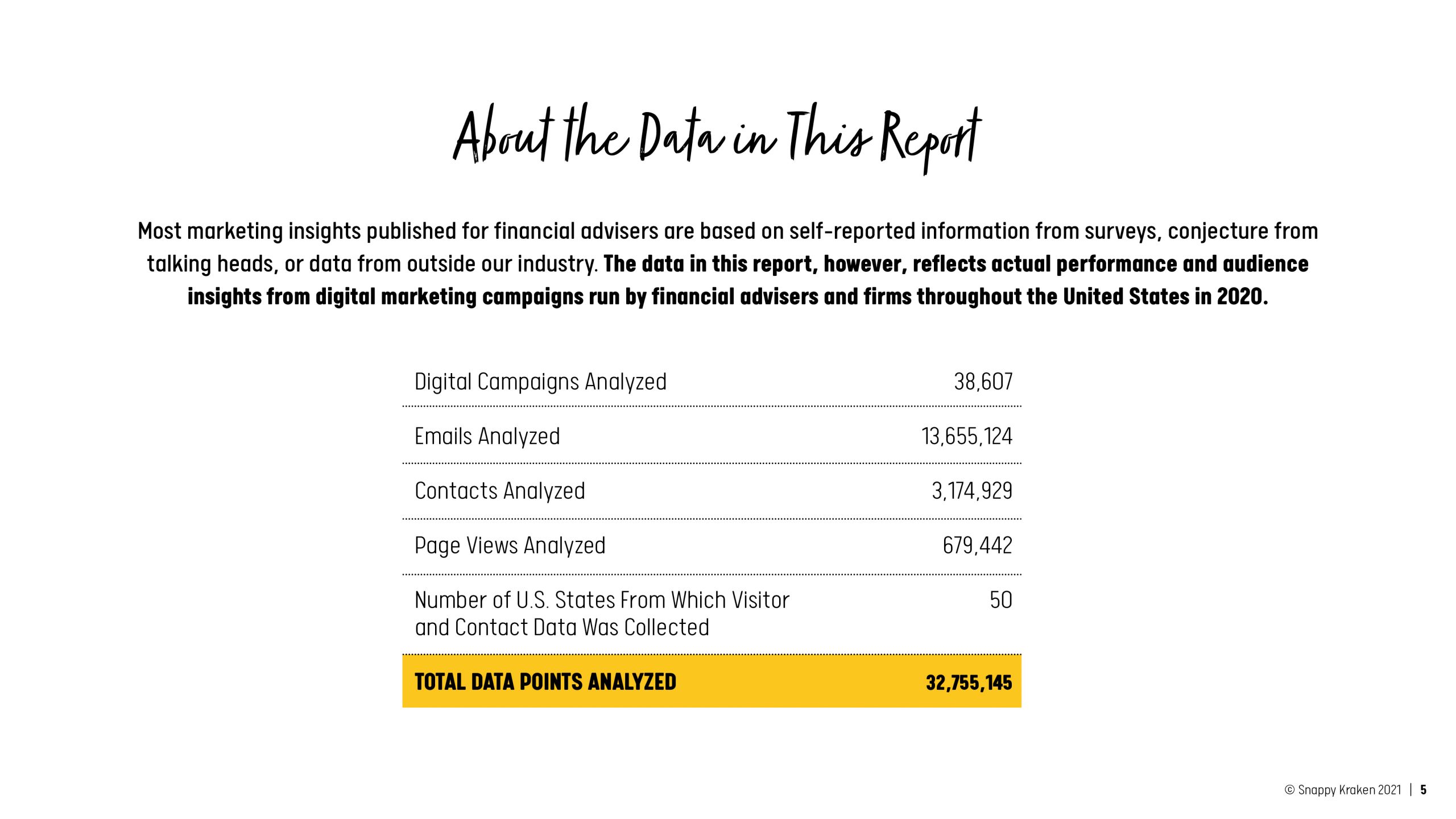 ---
We analyzed:
38,607 digital campaigns
13,655,124 emails
3,174,929 contacts
679,442 page views
We stand by our framework because we've seen it work time and time again. And we publish the results of our campaigns every year so you can see it, too.

Step 1: Get Noticed
The first step for any successful financial adviser is getting noticed. You need to build brand awareness and generate top of funnel (TOFU) leads.
Your TOFU leads are people who don't know about your brand, what you can do for them, and why they need you in their lives. They might not even know what specific problem they want you to solve, just that they want to start taking control of their financial future. So they probably won't convert right off the bat, and that's OK.
Your goal right now is to get people to click on your ads, go to your events, or follow you on social media. Here are three things you can do to get noticed by more people:
Diversify Your Traffic Sources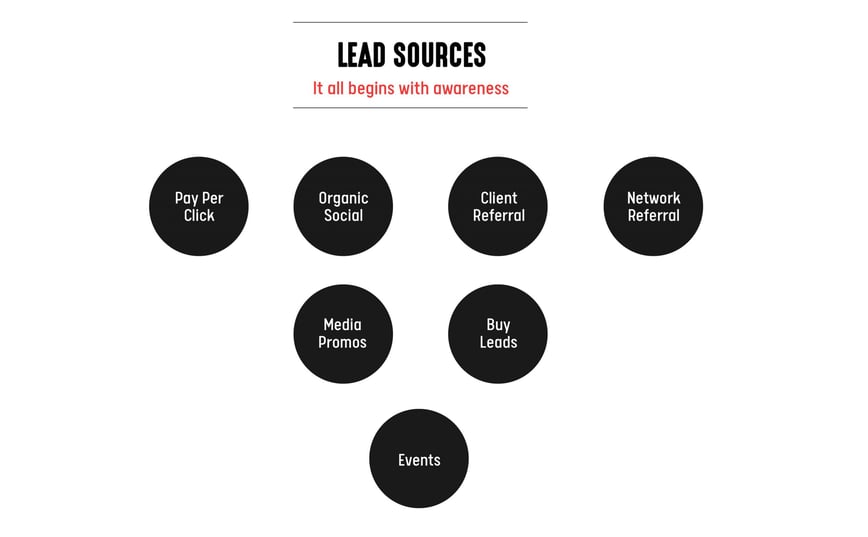 Your traffic source is the channel (e.g. social media, an event, a client referral, etc.) through which people first learn about you and your services. Omnisend found that campaigns run on multiple channels rather than a single channel got 287% more sales. That's because targeting people through different channels allow you to cast your net wider and get more qualified leads.
From our own research, we've found that emails generate 71.3% of all your leads. The other 28.7% of leads were generated through paid Facebook ads, organic (unpaid) Facebook posts, LinkedIn, and Twitter.
That means if you decide to only run paid Facebook ads, you're only getting 19.7% of your potential number of leads. Conversely, if you decide only to generate leads through email, you're missing out on almost 30% of potential clients.
To diversify your content, first choose two to three platforms you know your target audience is on—like email, Facebook ads, and LinkedIn. Then, start planning out and creating your content for those accounts. With automated marketing services, your campaigns are all planned and created for you, so you can skip that step and go straight to publishing.
"Stop the Scroll"
Social media ads are effective—but only if you're able to "stop the scroll" and catch people's attention. Companies have spent 50.3% more on ads this year compared to last year, which means social media is more saturated than ever, and you're competing with more brands for attention. You've got a few seconds at best to make an impression and "stop the scroll."
---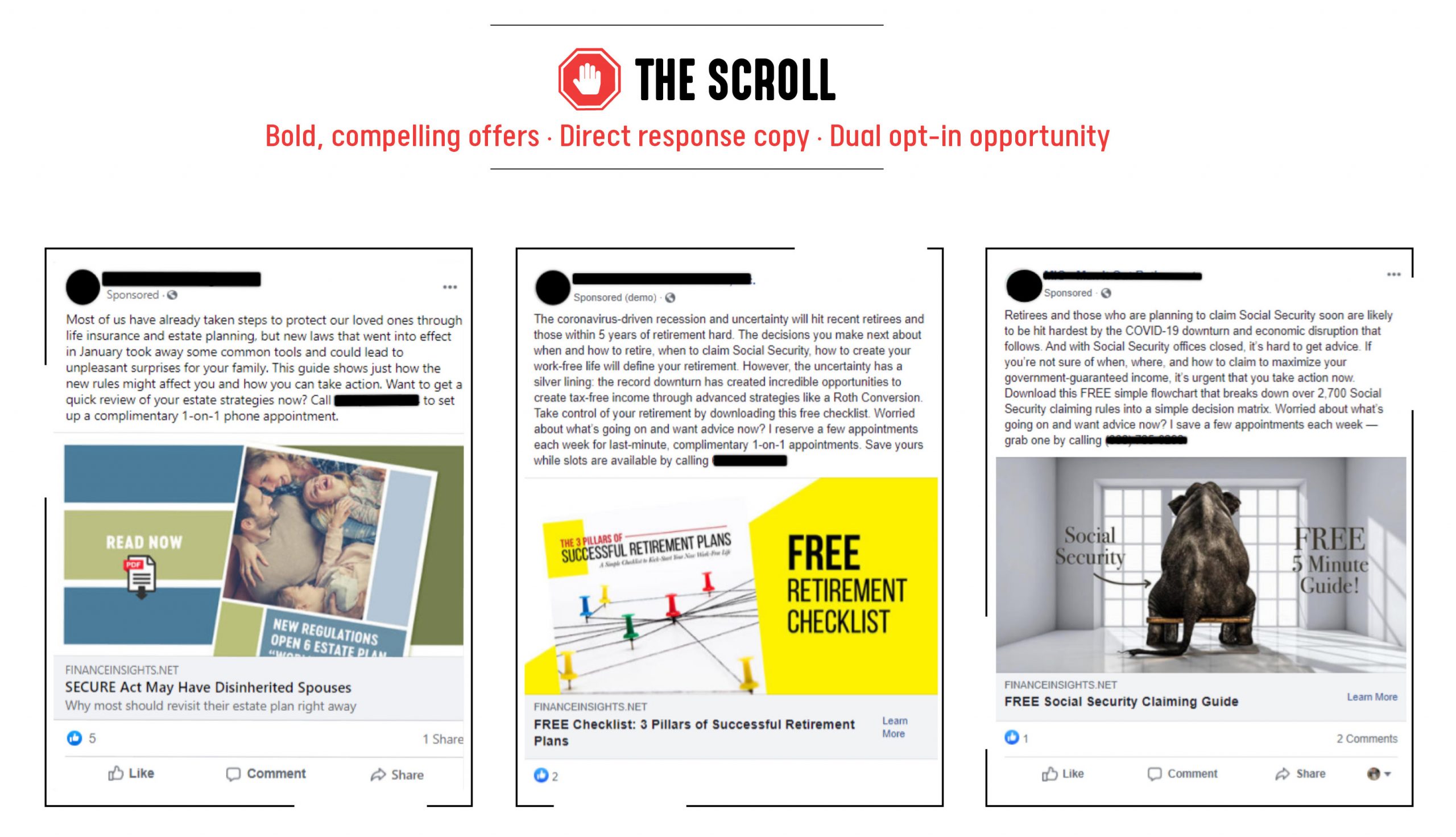 ---
From running thousands of social media campaigns, here are some things we've found that have worked at "stopping the scroll":
A compelling ad caption. Write an ad caption that uses firm but clear language that makes the reader want to take action (click on your ad).
Bold images that pique curiosity. Pair bright colors with eye-catching symbolism to really make your ads stand out (e.g. using bright yellow or a photo that shows social security as the "elephant in the room").
Clear, direct text. Use short but clear (and large) text in your images that tell your leads exactly what they're going to get when they click your link (e.g. "FREE retirement checklist").
Diversify Your Content
Most financial advisers who want "quick marketing hacks" spend thousands of dollars on the "highest converting campaign" and use that single campaign for all their ads and client communication sequences.
Well, we collected data on our top 7 highest-converting campaigns and found that even our best campaign made up only 23% of all conversions—that's less than a fourth of the people you could have reached if you had different offers. You need to diversify your content so you're not missing out on speaking to the other 77% of your potential clients.
---

Diversifying content means creating multiple ads, events, and email sequences tailored to different segments of your target audience. For example, 57.7% of people on LinkedIn are 25 to 34 years old, so run a lead generation ad on hidden income tax opportunities to target the bulk of the people on the platform. But also run an ad campaign on estate planning and retirement success to target the other 27.9% of people on the platform who are 35 to over 55 years old.
Diversifying your content increases your relevance for people at different stages of life with different financial needs. The more relevant your content is to someone, the more likely they are to click on your link.

Step 2: Earn Contacts
Now that you've got eyes on your campaigns, you need to start gathering contact information so you can get in touch with your leads on a more personal level.
At this point, you're no longer offering TOFU content that merely grabs attention and tells people you exist. You need to provide more valuable offers to turn your leads into prospects.
Your goal now is to convince your target audience to share their name and email address with you. Here are three things you can do to achieve that goal:
Personalize Your Landing Pages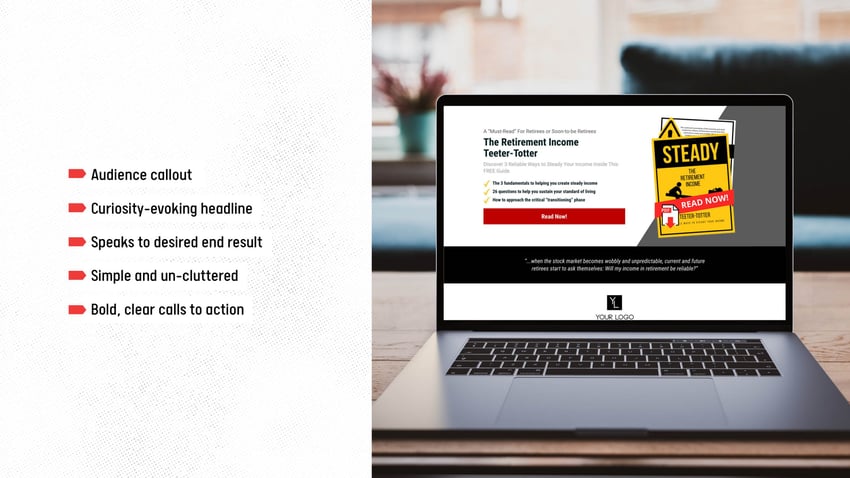 Your website is not your landing page. Your website has a home page, a services page, and even a blog page—a lot of pages that can distract your lead from doing the one thing you want them to do: give you their contact information.
Instead of sending potential leads to your website, send them to a landing page optimized for conversion (i.e. when they give you their contact information). Landing pages are simple pages with a clear value proposition, a valuable piece of content they can only access by sharing info, and a single call to action (CTA). See below:
The most successful landing pages engage visitors through personalization. Most websites have multiple landing pages, each geared to different audiences. To personalize your landing page, call out your audience at the top, write a headline relevant to your reader, and tell your audience what they'll learn from your offer.
In the example above, we look at the Retirement Income Teeter-Totter Lead Generation Campaign. Here's what made it work:
The landing page targets people interested in retirement planning, so you'll see an audience callout at the very top, "A 'Must-Read' for Retirees or Soon-to-be Retirees."
The downloadable resource is relevant to that audience and speaks to a problem they might be facing.
The bulleted list of results are outcomes the target audience wants to achieve.
The landing page is also optimized for conversion because it uses clear, easy-to-understand language, a simple layout and color scheme (not distracting), and a single CTA. After visitors click on the CTA, they're directed to a form that will ask for their contact information before they can download the free resource.
Don't Ask For Too Much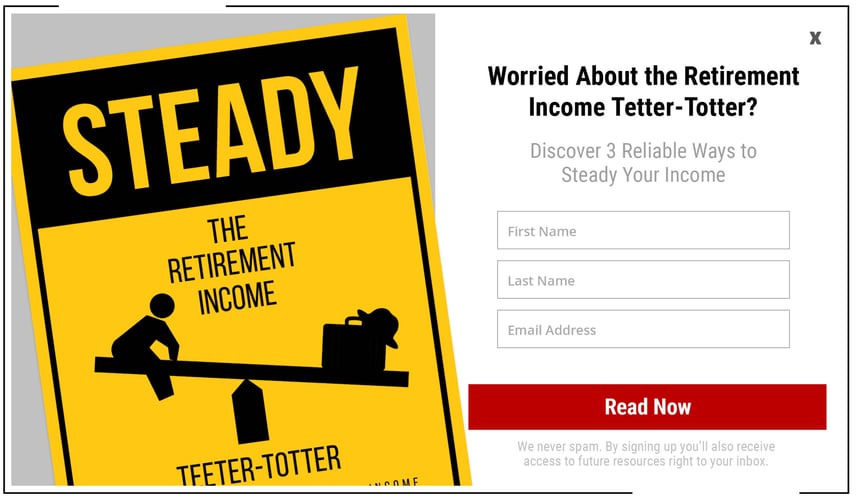 Don't ask for too much information as soon as your leads get to your landing page—they don't really know you yet, so keep it easy.
Ideally, your lead generation form should ask for two things: name and email address. That's it. A study by HubSpot found that contact forms with three fields have a 25% conversion rate, while contact forms with six or more fields have a conversion rate lower than 15%.
Your leads are more likely to give you their email address if you keep your lead gen form simple, with an outstanding offer that lowers the perceived risk of giving out genuine information.
Snappy Kraken's landing pages have a 12.53% conversion rate, more than 10% higher than the average landing page conversion rate of 2.35%, because we make it easy for leads to opt in.
Surface a Secondary Offer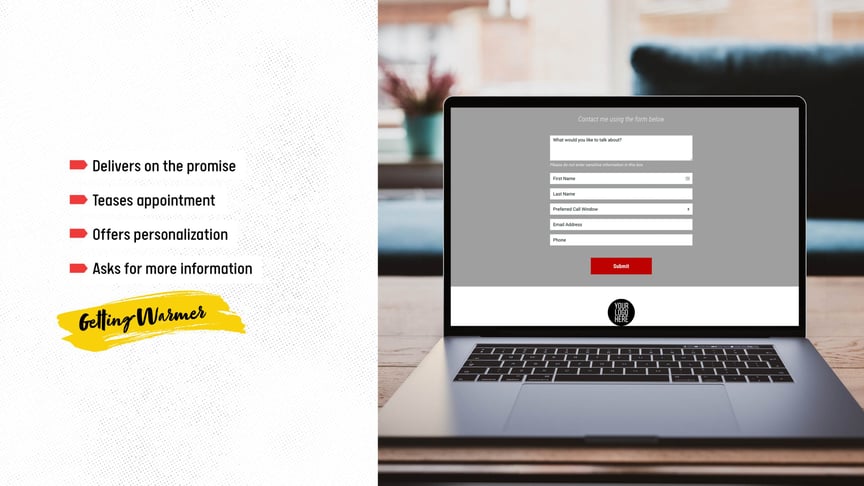 After receiving the information you want, offer an appointment booking form where you can get a little more information. This will give you the opportunity to connect with those who are most interested in your service.
At this point, your prospects have downloaded your lead magnet and have now moved to the "warm lead" category—they know you, they're interested in what you have to offer, and you might be able to close the deal. So try!
If they opt to exit at this point, you still have their contact information, so you can put them on a lead nurturing sequence that will help you build a relationship with them.

Step 3: Build Credibility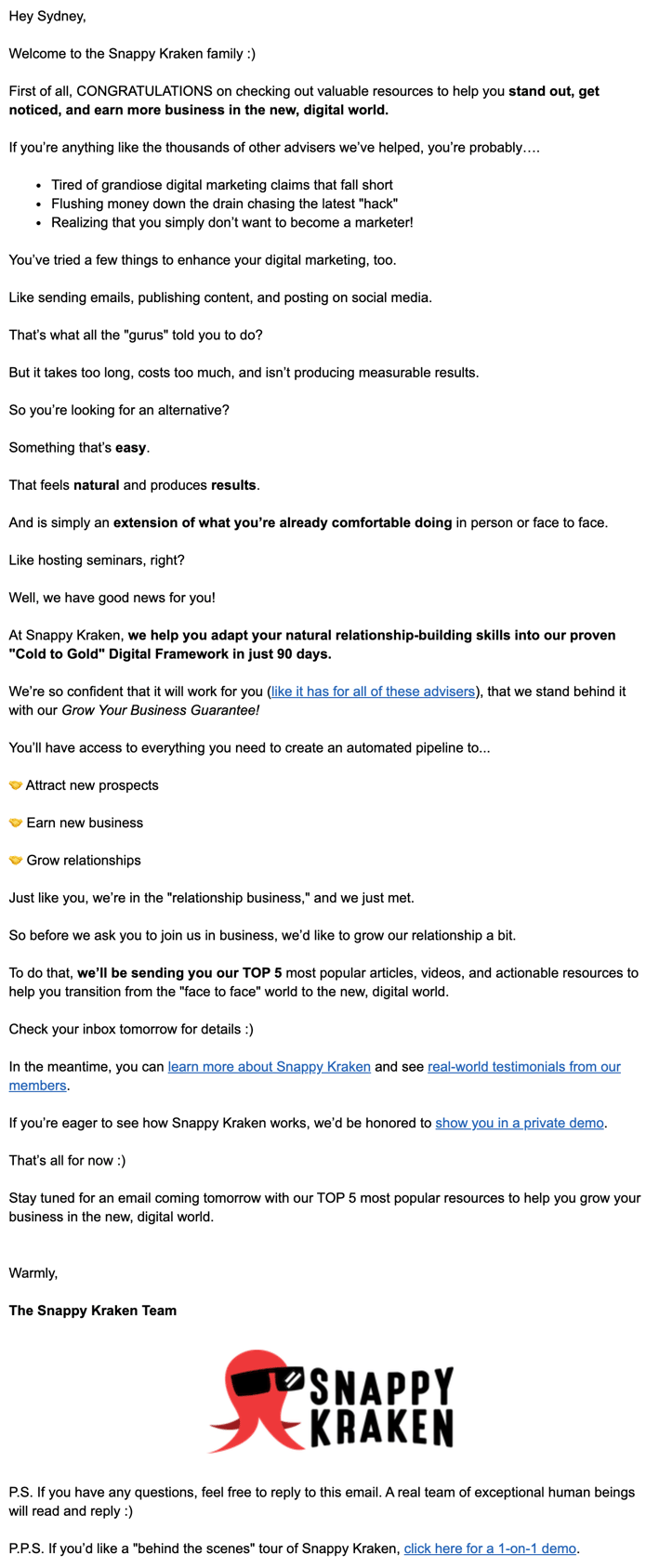 Now that the lead generation phase is done and you have your list of contacts, it's time to start nurturing your prospects and building that relationship.
In the days after they download your lead magnet, set up three to four relevant follow-up emails that offer the type of content related to their concerns.
For example, if they downloaded an ebook on financial planning for retirement, continue down that road and give them information on retirement plans. Don't suddenly start sending them heavily branded, generic financial planning emails. Stay relevant so they know you care about their specific problem.
The goal at this point is to start nurturing the client-adviser relationship that will turn your prospect into a loyal client and advocate. So these emails shouldn't be newsletters with a lot of pretty colors and HTML branding. Keep it simple—use plain-text, conversational emails like you would with a friend.

Step 4: Start Conversations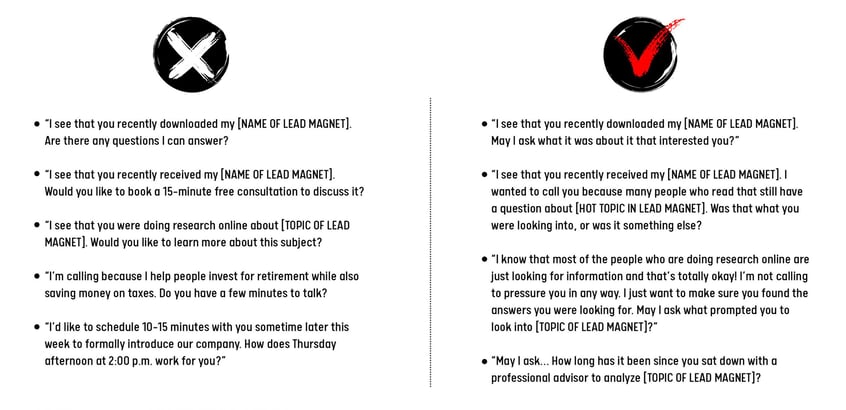 At this point, you shouldn't be hard selling—yet. Instead, your goal should be to continue building the relationship and fostering trust. And the best way to build any kind of relationship is open and consistent communication.
Use emails to ask your prospects what about the downloaded resource made them opt in or what specific problem they're facing. Don't ask questions that can be answered with a quick "yes" or "no"—those questions don't get many responses.
You can also use your opt-in incentives to start those conversations. While they should add value, don't give your leads the whole picture, so they don't need you. Instead, ask thought-provoking questions they may or may not be able to answer on their own and then end with, "Have I discussed my [financial need] with a financial professional?" That way, your leads know they can book a call with you should they have a hard time understanding the information in your offer.
---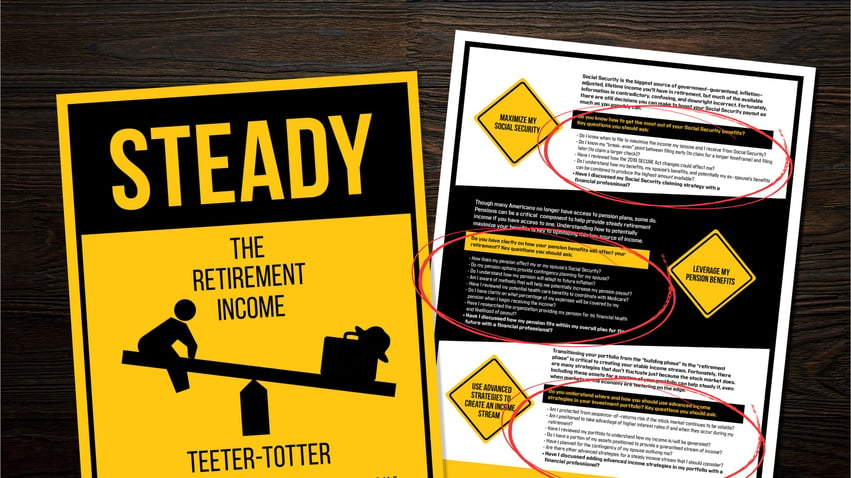 Step 5: Win Clients
Now it's time to sell. You sent a slew of value-adding emails, had conversations with your leads, and made sure they know you're the go-to resource for financial services.
At this point, you can send an email asking your potential clients if they want to get on a call with you to figure out how you can help them. Then, when you get on the call, wow your clients using the three pillars of persuasion:
Believe in your service.
Cite data and outcomes to demonstrate your services work.
Tell success stories from real clients.
The call is your chance to persuade clients to work with you and choose you over other financial advisers.

Step 6: Deepen Relationships
Closing the sale doesn't mean you stop talking to your clients and nurturing the relationship. Clients who are happy with a product or service share that product or service with 11 other people on average. Your clients are now your advocates—as long as they're happy, they'll keep sending new leads your way.
Show your clients you care about them and stay top of mind by continuing to send nurturing emails. These should still contain open-ended questions, add value, and keep communication lines open.
You should also communicate with your clients consistently and conversationally, so they know what's happening on your end and you care about what's happening on their end. You can do this by setting up an automated email check-in asking clients about their current problems and how you can help.
When they respond to the automated email, you can respond personally and dig deeper into their concerns to offer even better services.

What Top Advisers Are Doing + Results
Top advisers are masters of segmenting leads and crafting nurturing campaigns. Here are their secrets to success, which you can adapt to your own business.
They Automate Their Marketing
Social Media Today found that 75% of marketers automate their marketing campaigns to reach more people—and advisers are doing that, too! Automated marketing frees up time for you to focus on advising, not marketing.
---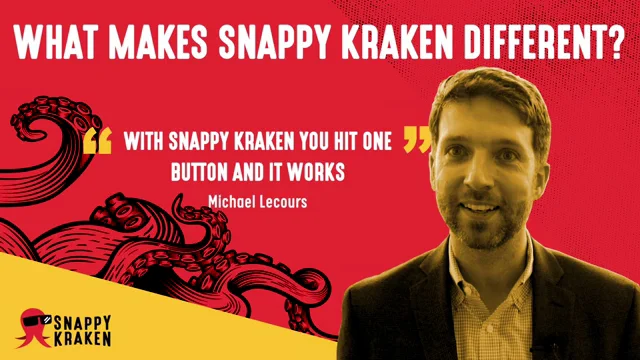 Michael Lecours told us how Snappy Kraken helped continue marketing and scaling their business.
---
Michael Lecours was pouring around 3 hours a week into his marketing, and it was getting in the way of dedicating his time and energy to his clients. After automating with Snappy Kraken, he spends just one hour each month planning out his content and segmenting his new leads. The automation allowed him to scale his marketing alongside his business without sacrificing leads or pouring too much energy into marketing.
We know how marketing can become one big time suck, which is why Snappy Kraken automates your marketing, so you only need to spend a few hours on it per month.
They Communicate Consistently
Make sure your clients know you're there for them by checking in consistently and giving them periodic updates.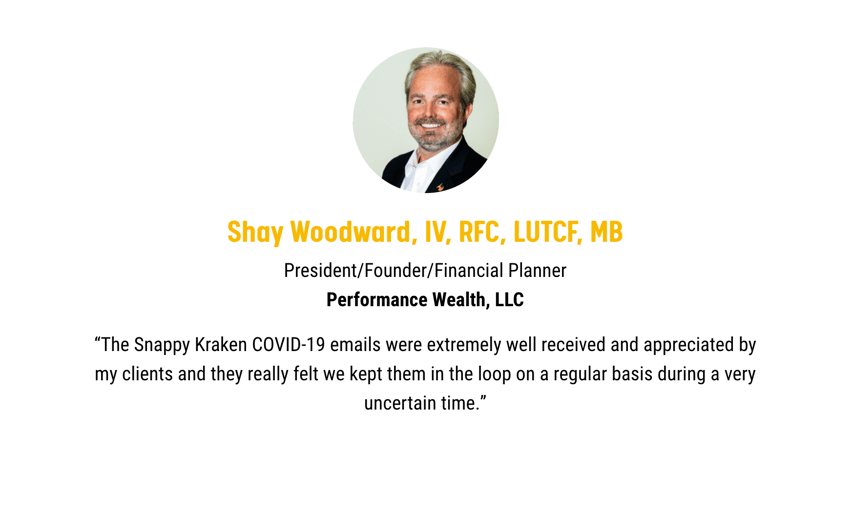 Nina O'Neal, investment adviser and partner at Archer Investment Management, tripled communications on social media and email so her clients knew she was accessible.
Another one of our members, Shay Woodward, president, founder, and financial planner at Performance Wealth, LLC, told us, "The Snappy Kraken COVID-19 emails were extremely well received and appreciated by my clients and they really felt we kept them in the loop on a regular basis during a very uncertain time."
They Stay Authentic and Approachable
Top advisers send plain text emails—no pretty layouts. Plain text emails feel less like marketing and more like a real conversation, which encourages clients to respond. They also ask open-ended questions that give them insights into what their clients and leads need right now.
Jon Bicknell, certified financial planner at Cetera Advisors LLC, used automated campaigns that contained questions like, "Hey, are you still interested in Social Security and retirement income plans?" to keep his clients engaged.
They Have Segmented Nurturing Emails
Top advisers have different email campaigns per market segment, so they can personalize each email. One of the main features of our Cold to Gold Framework is it can reach a wide audience because of the variety of automated campaigns we have at Snappy Kraken.
Mark Silverman, CFP®, managing member, founder, and certified financial planner at Silverman + Associates, told us their emails now have an all-time-high open rate of 38.24% because they've been using different campaigns. "Snappy has also been tremendous in reviewing our work," he told us, "and making sure we are capitalizing on using a variety of campaigns without overloading our contacts. I've been very impressed. Thanks Snappy!"

Market at Scale With Automated (Yet Original and Engaging) Campaigns
Use the Cold to Gold Framework to guide your automated marketing campaigns at scale so that you spend less time on your marketing efforts but still get more leads, build more authentic relationships, and achieve greater results.
The best thing about joining the Snappy Kraken community is you get direct access to our team and resources. We help you build a strategy that works for you through one-on-one calls, show you more about marketing with our 90-Day Marketing Accelerator, give you access to our Knowledge Base, and provide On-Demand Training Videos.
The Cold to Gold Framework makes your marketing pop, and Snappy Kraken makes it work even better by holding your hand and supporting you every step of the way. Get in touch so we can figure out how you generate more leads in less time together.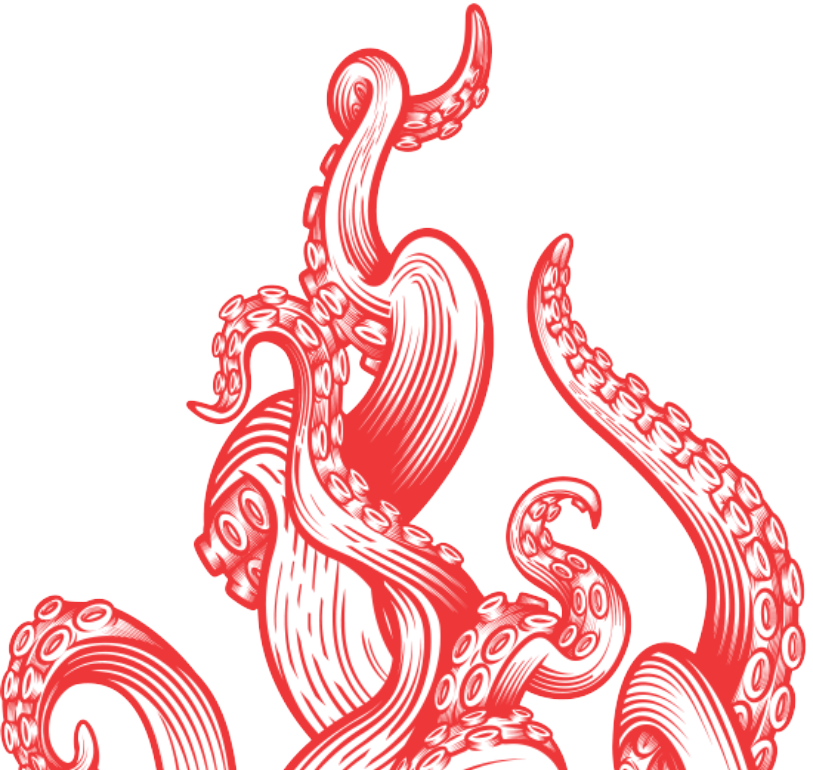 Wondering if Snappy Kraken is right for you?
Done-for-you content
Easy Automation
Proven Results
Cold to Gold Framework
The Cold to Gold Masterclass is your marketing manual. It shows advisers the proven framework for keeping their pipeline full, the types of campaigns that warm up prospects the fastest, and what the top 25% of advisers do differently in their marketing.
Read Full Program
Robert's Masterclass
The Blend Out Masterclass is your predictable and scalable framework, proven to give you results. In this series, Snappy Kraken CEO, Robert Sofia, will give you 3 powerful memory aids to hijack your brain, the one major factor that separates success from failure, and more.
Explore Classes