Should Advisers Buy Email Lists?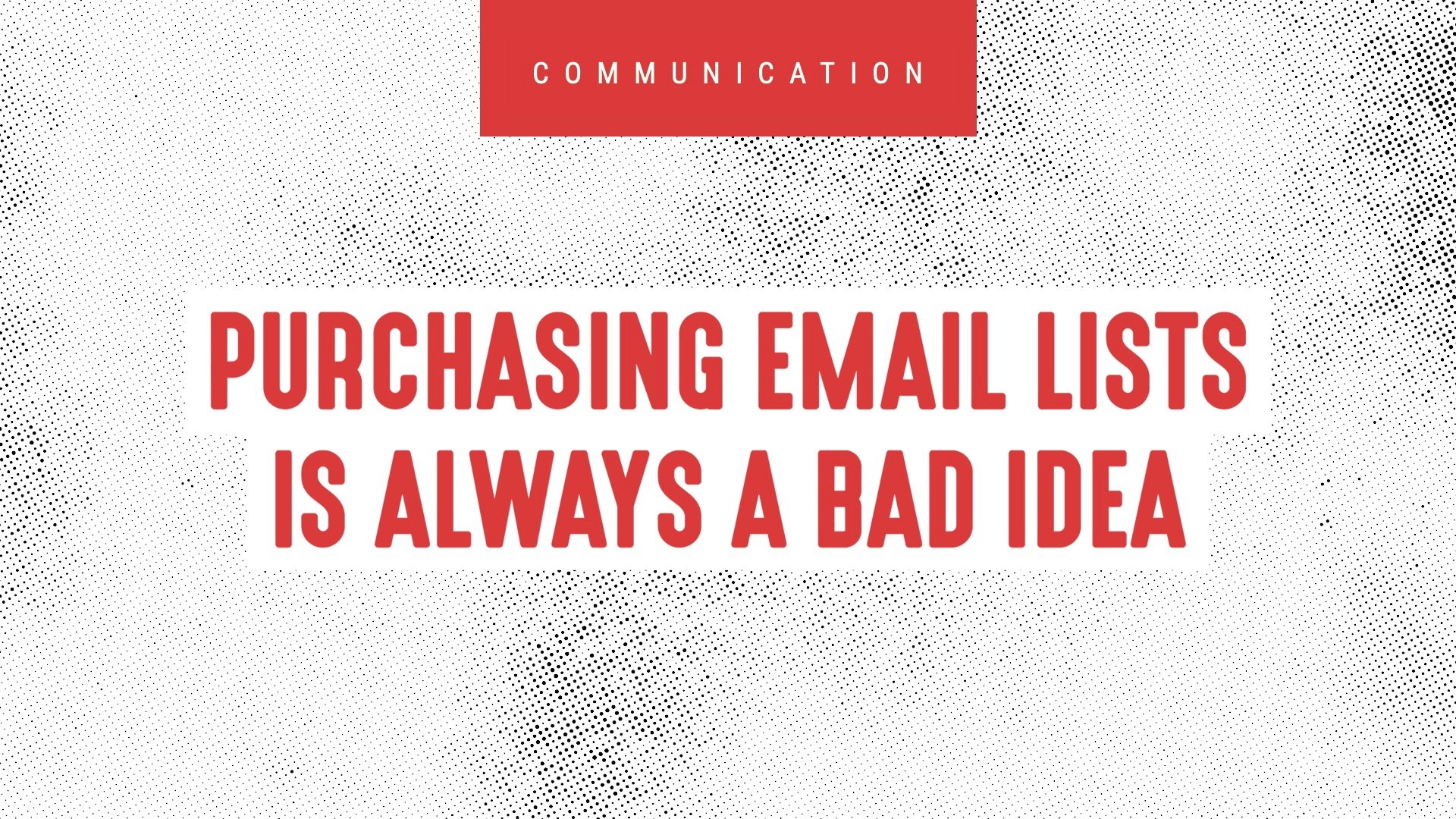 Imagine this: You receive a call from an unknown number. You pick up, just in case it's someone important, but as soon as you answer, a telemarketer starts rattling off a sales pitch. You (and everyone in the known universe) hate it when that happens, and for good reason—this sales tactic is annoying, and you didn't consent to receive calls from random companies.
The bad news is that you're using the same tactic as that annoying telemarketer when you buy an email list and send cold messages. The only difference is the device used.
Luckily, you probably already have a great list—even if your list is just one warm lead.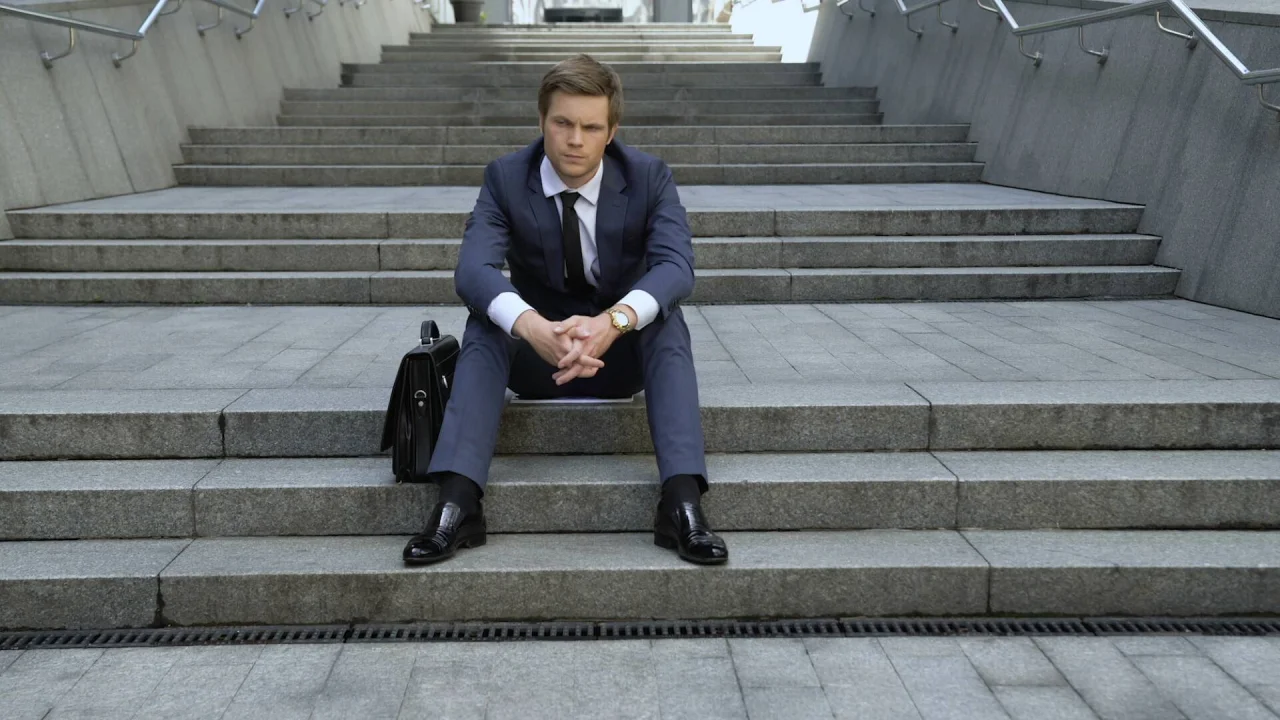 One Warm Lead is Worth a Thousand Cold Leads—Here's Why
Most financial advisers purchase email lists to kick-start their marketing efforts. They believe that sending emails to a purchased list is better than sending no emails at all—but the opposite is true.
When you purchase a list, you get a random assortment of email addresses. Some of them might be interested in financial services, but some of them are inactive contacts, while plenty of others will hit "mark as spam" as soon as they receive your email. And that's not the only issue.
Purchasing Lists is Against the Law
Purchasing an email list might get you one or two warm leads. It (sort of) works—but so does walking into a bank with a gun. Just like robbery, purchasing email lists or sending unsolicited bulk emails is illegal. Regulations in many regions of the world prohibit the buying of email lists or bulk sending unsolicited emails.
To get more specific, purchasing email lists is against the EU's and UK's General Data Protection Regulation (GDPR). Violations of GDPR have already incurred well over $850 million since it began in 2018. In the third quarter of 2021 alone, they hit violators with fines totaling over $1.1 billion—20 times higher than their total fines in Q1 and Q2 of the same year.
Sending unsolicited emails also violates US privacy laws. The Controlling the Assault of Non-Solicited Pornography And Marketing (CAN-SPAM) Act prohibits sending unsolicited bulk emails. Violations cost up to $43,792. And the California Consumer Privacy Act (CCPA) requires explicit opt-ins from recipients before companies can start sending marketing emails. Each offense against the CCPA can incur penalties of up to $7,500.
When you generate leads the right way—through social media ads, hosting events, and so on—you get consent from your recipients. BuzzSumo, for example, asks you to confirm your email after you subscribe to its mailing list.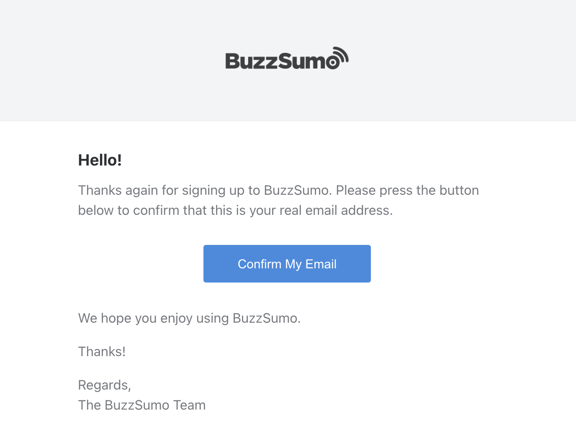 This is an example of what a double opt-in confirmation email looks like.
Recipients and Email Providers Will Mark You As Spam
In March 2021, spam mail made up 45.1% of the world's email traffic. Nowadays, with email service providers (ESPs) getting smarter, many marketing emails don't even make it into most recipients' inboxes—they land directly in the spam folder and never see the light of day. And if a recipient rarely opens your emails, some ESPs, like Gmail, prompt them to unsubscribe.
ESPs mark an email as spam based on a number of factors—three of which are important to financial advisers:
Domain reputation. Most employees and business owners have an "@company.com " email address. For example, ours is "employeename@snappykraken.com." The portion of the address after the @ symbol is your domain. If one of the emails in your domain, "sales@company.com," for example, sends multiple emails that often get marked as spam, your whole domain gets penalized, and ESPs like Google will automatically mark all emails from your domain as spam.
Certain words, phrases, and punctuation marks. Over the years, certain words, phrases, and style practices have made it to the red flag list. Some words to avoid are: "earn," "millions," "bitcoin," "guarantee," and "free." Some phrases that will trigger red flags are: "free trial," "earn 'x amount' per week," and "subject to credit approval." Other things that can trigger the spam filter are the use of too many exclamation points (!!!), question marks (???), and symbols ($%&).
Email engagement rate. If your emails aren't getting enough opens, that may trigger the spam filter because the recipient isn't interested.
What's more, people manually mark emails as spam because they didn't give you permission to send them emails in the first place. When one or more spam triggers happen, all your emails are caught by spam filters and never land in inboxes—whether your recipient is from a purchased list or an actual lead. Even if someone looks in their spam folder, their ESP reminds them they previously marked your messages as spam.

This is the spam warning that Gmail shows its users when they look at emails in their spam folder.
Once you're on an ESP's spam list, it's notoriously difficult—dare we say impossible—to get off of it. Short of changing your company name and getting a new domain name, you're stuck in the spam folder—forever.
Avoid getting stuck in the spam folder by only sending relevant emails to leads who have opted-in to your list.
You're Competing with Other Uninspired Marketing Messages
Let's face it, you don't know the people on your purchased list—and they don't know you. So you're probably sending random, generic financial marketing, hoping that one of them hits on a pain point that might get you a call booking.
But what actually happens is your email gets ignored—or worse, marked as spam—whether your email lands in the inbox or the spam folder. Most people on purchased email lists are probably on multiple lists because their address has been scraped from similar locations. So your purchased list has probably seen hundreds of uninspired marketing messages—which is the only kind of marketing message you can send when you don't know the recipient.
The bottom line is, when you send emails to a purchased list, your messages won't get read. Most people hang up on calls from unknown callers because they don't know or care who's calling. The telemarketer on the other end might be offering the best product in the world, but it doesn't matter if the recipient is unwilling to listen. The same is true of email.
Email Tools Don't Accept Purchased Lists
Last but not least, don't buy an email list because you can't use it anyway. Unless you're planning to copy-paste all your bought emails into the bcc line of a manually sent email, it's useless. Reputable email automation companies like Mailchimp, GoDaddy, and Constant Contact prohibit the uploading of purchased contacts to their database.
You can't use purchased lists because all those companies know that sending unsolicited emails hurts domain reputation—and their tool. If they allow people to send emails to purchased lists and those emails get marked as spam, the ESPs will also put the automation tool on their spam trigger list.
If you still don't understand the point we're trying to make, it's that purchasing an email list is always a bad idea. You get a list filled with email addresses that may or may not be active (e.g., forgotten email address), with people who don't want to get random messages from you. Qualified or opt-in lists for sale don't exist—but you can build them yourself.
You Already Have Leads, And You Can Generate More
You don't need to buy an email list—you probably already have leads hiding in the forgotten corners of your business. Every time you've held an event, met someone and received a business card, or gotten a referral, you got an email address.
Compile those email addresses into a spreadsheet, and you've got yourself a list of people interested in your content.
Remember, sending an email to 500 interested people is better than sending that email to 100,000 unengaged recipients. As our head of lead and demand generation, Mike Rinard, likes to say, "Don't feel bad about not having 20,000 email addresses—10 to 50 is good. We started with one."
But if you're still convinced that you don't have a list (though we highly doubt that), we've got the perfect strategy for you: Holistic Lead Generation. As an automated financial adviser growth program, we know how to generate leads who want to hear from you, how to nurture them, and how to turn them into clients.
Our Holistic Lead Generation strategy generates leads by using eye-catching, relevant campaigns to grab attention, increase brand awareness, and get contacts. You can't get email addresses if you don't have content that people are interested in.
Each of your campaigns should contain a couple of social media posts, a relevant, compelling landing page with a downloadable offer, an opt-in form, and a confirmation page. Your social media posts need to be eye-catching and make people want to click. A highly engaging headline on your landing page makes people curious enough to give you their contact information through your opt-in form. Your confirmation page should remind your new leads that they've opted in to your list.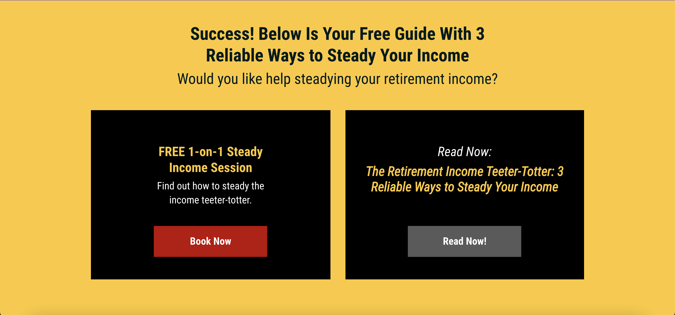 This is a photo of a confirmation page that redirects leads to either a call booking calendar or a download link.
Remember to create content specifically for your target markets. If you're targeting pre-retirees, for example, create campaigns about retirement planning and post it to social media, write articles about it, and market it on forums like Quora and Reddit.
Apart from generating leads through social media and email, you can also tap into your existing network—your clients. Send your clients an email asking for referrals. If you don't know how to do that, we've built a script for you.
Get Leads and Clients the Right Way with the Cold to Gold Framework
After you get a lead, the journey doesn't stop there. Snappy Kraken takes you from cold to gold—from getting your first contact all the way to turning those contacts into clients. Remember, leads aren't wins. They're the start of a long yet rewarding journey.
Book a call with us to find out how we help you generate leads and turn them into clients.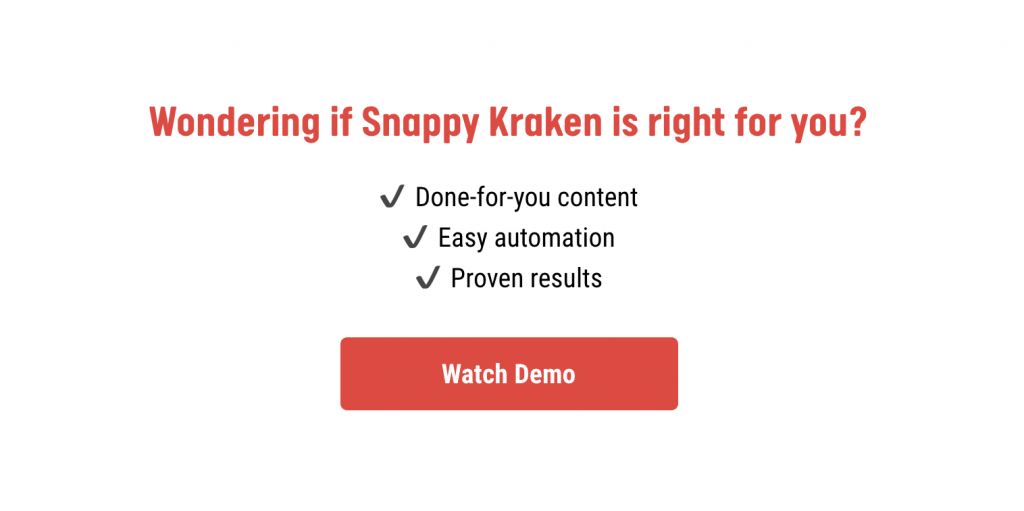 Wondering if Snappy Kraken is right for you?
Done-for-you content
Easy Automation
Proven Results
Cold to Gold Framework
The Cold to Gold Masterclass is your marketing manual. It shows advisers the proven framework for keeping their pipeline full, the types of campaigns that warm up prospects the fastest, and what the top 25% of advisers do differently in their marketing.
Read Full Program
Robert's Masterclass
The Blend Out Masterclass is your predictable and scalable framework, proven to give you results. In this series, Snappy Kraken CEO, Robert Sofia, will give you 3 powerful memory aids to hijack your brain, the one major factor that separates success from failure, and more.
Explore Classes