Viral Loops and Referral Flywheels – A Marketing "Hack"
Marketing on autopilot is every financial adviser's dream. Everyone (not just financial advisers) wants a magical marketing hack that continuously generates qualified leads, referrals and new clients without them having to lift a finger.
We've got good news—the "magical marketing hack" exists; it's called a viral loop or referral flywheel. A viral loop is a marketing tactic that relies on delighting clients enough that they share your service or product with friends, family, colleagues, and other people in their networks. These set-and-forget viral loops are all about the prep work. After investing some time and effort into your system's initial momentum, your marketing will start to run itself.
We used data that we collected from millions of campaigns and hundreds of thousands of emails to create a viral marketing loop specifically for financial advisers: The Cold to Gold Framework. We're here to help you get the ball rolling so that, eventually, you can spend way less time every month on your marketing and focus on growing your business.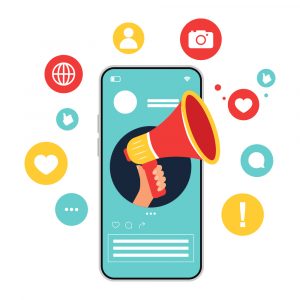 What Are Viral Loops, And Why Do You Need Them?
Viral loops or referral flywheels, as the names suggest, are never-ending marketing cycles that use referral programs to turn leads into customers, who generate quality leads, who turn into customers, and so on. So long as you provide a client experience worth talking about, leads will keep trickling in.
We built the Cold to Gold Framework to give financial advisers, like yourself, a surefire way to generate leads, engage clients, and get your referral flywheel going. Here's how it works in more detail: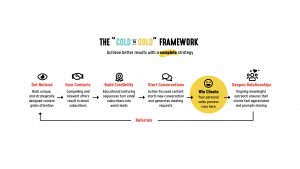 The cycle has four phases: generate leads (get noticed and earn contacts), nurture your leads (build credibility and start conversations), get clients, and build relationships—which then brings you back to generating leads through referrals.
Most financial advisers know the importance of referral marketing (i.e., the main driver of viral loops)—63% of registered investment advisers (RIAs) already ask their clients for referrals. And they see results: client referrals accounted for almost a fifth of all new clients in 2019 and 44.4% of wealthy clients found their current financial adviser through recommendations from friends and family.
Even though most advisers know the advantages of setting up viral loops, implementation can be difficult. Eighty-three percent of people are willing to tell their friends and family about you if they're happy with your product or service—but only 29% actually do. Having a clear strategy that intentionally creates a viral loop will help you encourage the other 54% and get them talking about you, too.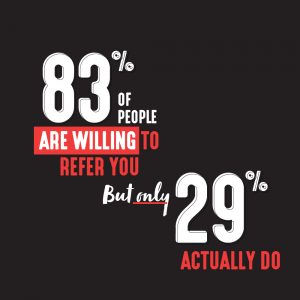 How to Create Viral Loops That Will Revolutionize Your Marketing
We created the Cold to Gold Framework with data from real campaigns and emails that financial advisers from all over the United States ran and sent to their prospects and clients. Tim Franklin of Franklin Wealth Advisors implemented our framework firsthand and reported back, "We started with Snappy Kraken back in December of 2018 and have seen a significant pickup in client referrals since then!"
And we wanted to share the success of our Cold to Gold Framework with you. Here's how we build our viral loops and how you can, too:
Step 1: Build A Marketing Strategy That Grabs Attention (We've Done This Part For You)
To create a viral loop, you need a solid foundation—an overarching marketing strategy that helps you get noticed, generate leads outside of referrals, and build relationships with both your prospects and existing clients.
Luckily, we've created that marketing strategy for you. The Cold to Gold Framework starts with getting your flywheel off the ground. Step one is to generate leads through eye-catching, curiosity-invoking content on all platforms. If you're running social media ads, you want to "stop the scroll" so that your content doesn't get lost in the barrage of content that users consume every day.
Take our masterclass to find out how to use the Cold to Gold Framework to get more out of your marketing.
Step 2: Nurture Your Clients with Value-Packed Content
Getting a new client is only the beginning—now, you need to make your clients happy and show them that they can trust you with their finances. Trust is crucial to any client-adviser relationship, so building trust early on will help you down the line.
Nurture your clients by providing helpful and authoritative content:
Educational content: Share your knowledge with your clients and give them tips on how they can reach their goals. Make sure that your content is relevant—i.e., Don't send an almost-retiree tips on planning for student loans.
Video content: Emails with links to video landing pages got a 46.04% click-through rate (CTR), 6.51% higher than that of other emails. Your clients want to see your face and hear from you, so create personal connection videos to meet their expectations.
Emails that address current events: Address political and economic shifts that could affect your clients' finances and cause them to worry, and ask your clients directly how they're doing. That way, you're establishing yourself as authoritative, reliable, and caring.
Finance-adjacent emails: Your emails don't all have to be about finances. One of our top-performing emails in 2019 was an email campaign that talked about celebrity money mistakes—we found that a lot of clients are very interested in celebrity news, so we took that interest and created interesting yet educational content about it.
Educational and nurturing events: Organize events (both online and offline) to show your clients that you appreciate them and ask them to bring a friend or two that might enjoy your content.
Continue building your relationship with your clients by showing them that you know your stuff and that you care about them on a personal level. Quick pro tip: all of the content we mentioned above can be automated.
Step 3: Launch Your Referral Program
Now that you've got happy, nurtured clients, you need to start thinking about your referral program. It's important that you've planned outreach methods, incentives, and program guidelines before you start reaching out to your clients and asking for referrals.
First, define your program guidelines. Set clear goals for your referral program, including how many leads you want to generate per client, how many calls booked you want per month, and how many new clients you want to get.
You also need to determine how you're going to reach out to your clients and how you want them to reach out to their peers—email, text message, verbally, or a combination of all three. If you want your clients to reach out through email and text message, we recommend building a template to make it easier for them to share your services with their friends.
Lastly, let's talk about incentives: you've probably been on the receiving end of a referral incentive. "Refer a friend and get $100 off your next service!" While incentives can make your referral offer more attractive, it can also cheapen it if not done right. There's also a compliance angle to consider.
At Snappy Kraken, we've built an automated referral generation email campaign that sends your clients emails, asking for referrals in exchange for gifts from you. It asks your clients how they've liked working with you then proceeds to ask them if they know someone who also needs your help. Keep in mind that your message in this email outreach needs to come off as personal and helpful.
On top of that, our email campaign has four free offers that your clients and their referrals can choose from: an investment risk analysis, a fee inspection, a portfolio review, or a tax minimization strategy session. A specific offer that could be highly relevant to the client's friend makes it more likely that they'll take up the offer to meet.
Step 4: Ask for Referrals
Asking for referrals should be a multi-channel project. On top of emailing your clients or sending them text messages, ask for referrals personally at the end of one-on-one sessions and during other meetings, where appropriate. Most of your clients probably know someone who can benefit from having a financial adviser, but they likely won't think about recommending you unless you ask them to.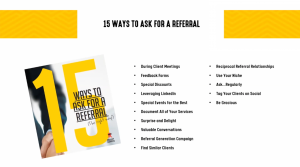 In your request, emphasize that you're helping them by offering your time and expertise, not the other way around. Instead of awkwardly asking for a referral during a call and getting met with awkward silence, offer your expertise and tell your clients that you'd love to extend your help to anyone who needs it. Here's an editable script for your inspiration.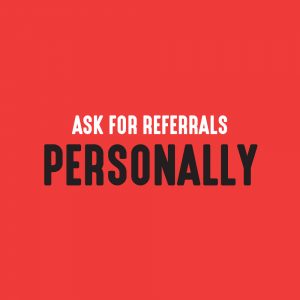 Step 5: Optimize Your Program with Data
Once you've set up all your systems—from automated lead generation campaigns to referral generation campaigns—you need to observe. Your implementation won't be perfect the first time you decide to start building your referral flywheel.
Here are some quantitative metrics you need to look out for:
Number of leads generated through marketing campaigns vs. referrals
Percentage of marketing leads that become clients vs. referral leads that become clients
Marketing leads vs. referral leads time to purchase
Number of clients and referrals who availed of your incentive
Referral request email open rate and CTR
If your numbers are a bit lower than you projected, then you might need to tweak your program. For example, if your request email open rate is low, you need to change your subject line. If your CTR is low, you need to adjust your copy. If your clients aren't referring enough, maybe you aren't asking enough, or your incentives aren't attractive enough.
Keep figuring out how you can make your referral flywheel spin faster, and soon, you can focus less on generating new, qualified leads and spend more time making your clients happy and improving your services.
Build Your Referral Flywheel Now for Low-Effort, High-Impact Marketing
Not everyone trusts ads, but people do trust each other. They trust testimonials, anecdotes, and real-life proof from friends and family that you know what you're doing. Use the Cold to Gold Framework to guide your marketing efforts so that you can start building your viral loop that will bring in a steady stream of new leads and clients.
If you want to know exactly where you can spruce up your marketing, check out your Marketing Opportunity Score.
Wondering if Snappy Kraken is right for you?
Done-for-you content
Easy Automation
Proven Results
Cold to Gold Framework
The Cold to Gold Masterclass is your marketing manual. It shows advisers the proven framework for keeping their pipeline full, the types of campaigns that warm up prospects the fastest, and what the top 25% of advisers do differently in their marketing.
Read Full Program
Robert's Masterclass
The Blend Out Masterclass is your predictable and scalable framework, proven to give you results. In this series, Snappy Kraken CEO, Robert Sofia, will give you 3 powerful memory aids to hijack your brain, the one major factor that separates success from failure, and more.
Explore Classes