Recession Marketing: What 800 HNW Investors Shared About Bear Markets and Recession Fears

We recently surveyed 800 investors in the US, earning between $200k - $500k/year. Here's what we learned...
You already know that bear markets and recessions create winners and losers.
Marketing during periods of high market anxiety and loss works much the same way.
Some advisors hide when times get tough. They think they have enough on their plates and use it as an excuse.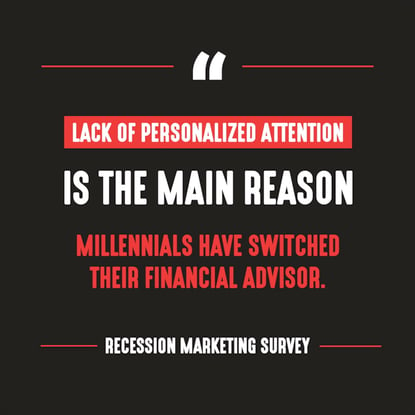 You might think that clients fire their advisors because of poor performance during bear markets, but you'd be wrong. Research shows that lack of attention and poor service are what motivate clients to leave their advisors.
Savvy advisors understand that staying connected to clients and being highly visible to prospects is the secret to thriving during a recession or market crisis.
Advisors who have made it through similar storms know that if you're not talking to your clients, someone else is.
We're not new to this BTW, and we're here to tell you that opportunities await advisors who jump into the fray and take action. Our team has discovered critical lessons about marketing during tough economic times, and we want to share those lessons with you.
Marketing During A Crisis Starts With Understanding The Fears And Pains Of Your Audience
Frankly, understanding your audience is step #1 for any kind of marketing.
But it's especially true during times of crisis because there's a big risk that your message will come off as tone-deaf.
Because clients and prospects are anxious and afraid. They're not sure where to turn for advice.
And they are distrustful of anyone who seems "out of touch" or simply doesn't care enough to understand what they are feeling and experiencing.
Before you can market effectively, you have to understand what really matters to your prospects (and what's going on inside their heads) so you can create great marketing that reflects their needs, wants, and deepest desires.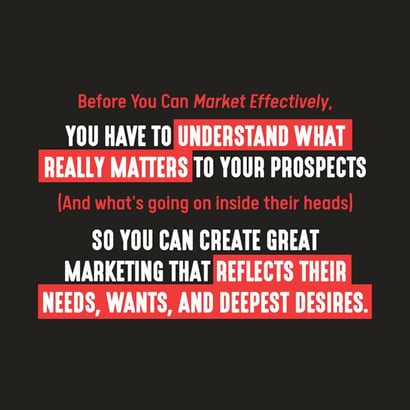 ✅ For your marketing to work (and get results) you need a research-based approach that's reflective of what your target market is thinking, feeling, and talking about.
❌ Guessing just isn't good enough in today's crowded marketplace and will lead to ineffective marketing that comes off as tone-deaf.
This becomes even more critical when a recession is looming and investors are fearful.
Where do you even start?
By going directly to your target audience.
We recently conducted two surveys of 800 HNW accumulators, pre-retirees, and retirees across America earning at least $200k.
We asked them to share their dreams, fears, and thoughts on markets, recession worries, and advice they'd like to receive.
And now we're sharing that research with you.
This research cost us thousands of dollars and dozens of hours, and it's just the first step to creating new marketing campaigns that take a team of experts over 80 hours and $20k+ each to complete.
For the first time, we're making this done-for-you market research freely available so you can understand exactly how your target market is feeling about the current market and economic situation in their own words.
Inside this report, you'll hear directly from:
👉A retiree earning $500k+ who is "panicked now" and is "losing way too much money"
👉A small business owner who's "avoiding looking" at her accounts
👉 An unhappy client who worries she'll "have to work longer than desired"
👉A Northern Virginia professional who is "scared, worried, and depressed" and is looking for advice
👉A Californian earning $500k+ who fears she "won't be able to afford" her current lifestyle
Plus, comments from 795 more HNW Americans in states and counties across the country who are grappling with today's turbulent markets.
By the way, if you'd like access to the raw data from this research project so that you can drill down into specific audience segments and develop your own insights, we are happy to share it. Just click below and tell us where to send the raw CSV of responses.
🔥 We'll be using this data to inform recession-oriented campaigns, including our new Retire Confidently In a Crash Lead Generation Campaign.
How Can Advisors Leverage This Research to Power Great Marketing?
You can mine it for insights, so your clients and prospects feel their fears and dreams are heard and understood.
You can share it with your team or centers of influence to bring value to the folks who drive growth in your business.
You can use it as a filter to assess your own marketing campaigns and ensure you aren't coming off as tone-deaf or out of touch.
You can even just swipe the messaging ideas inside to create better marketing results for yourself.
We're even sharing the exact ideas our strategists came up with to drive your conversations with clients and prospects in this article.
Ready to hear what your target market has to say?
Let's dive in!
Who Did We Survey?
Here's a quick overview of the demographic breakdown of our survey respondents: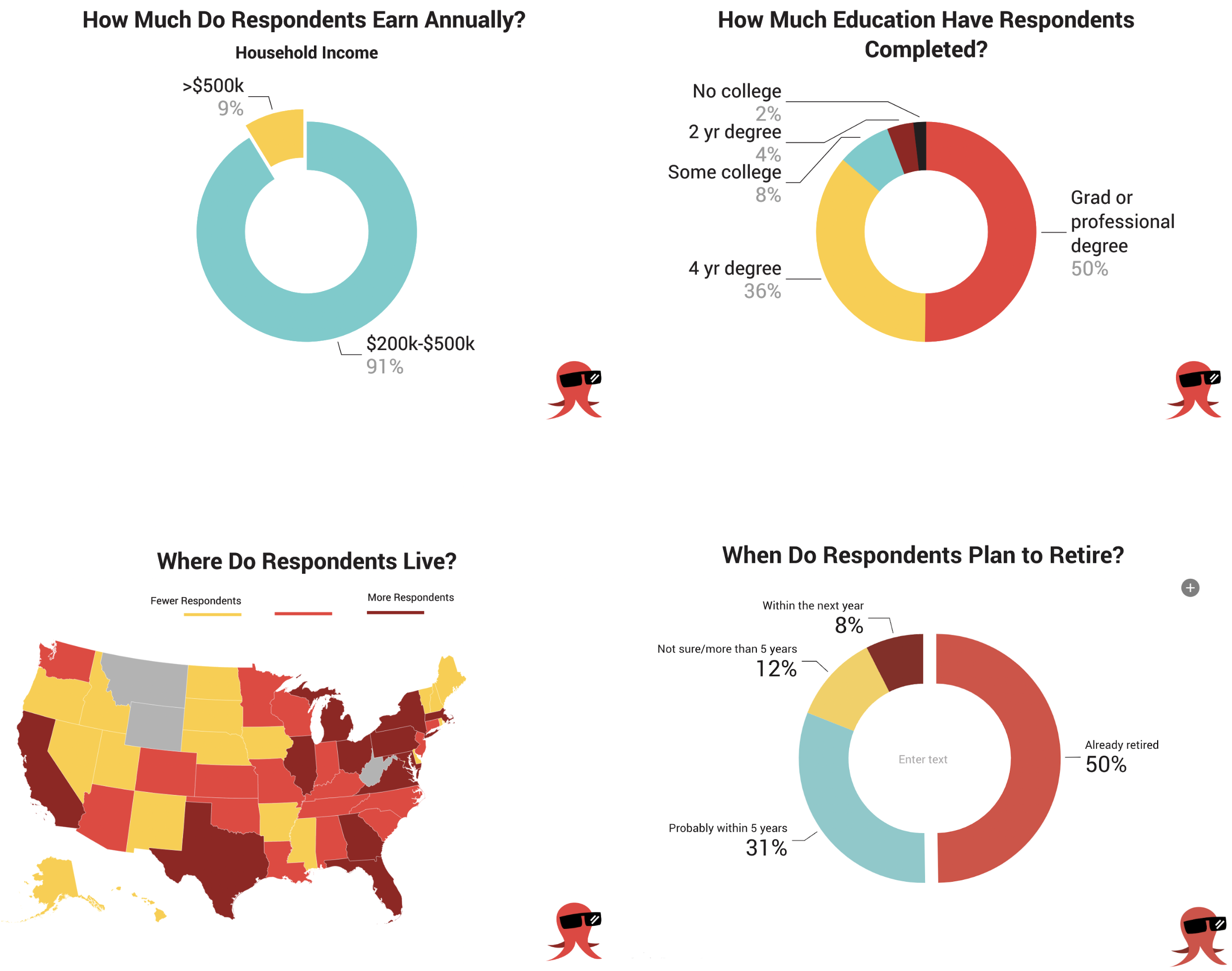 What Did We Learn From Our Surveys?
HNW Investors Are Looking for New Advisors
We asked respondents of our first survey whether they would consider hiring an advisor within the next 18 months, and about half said "yes."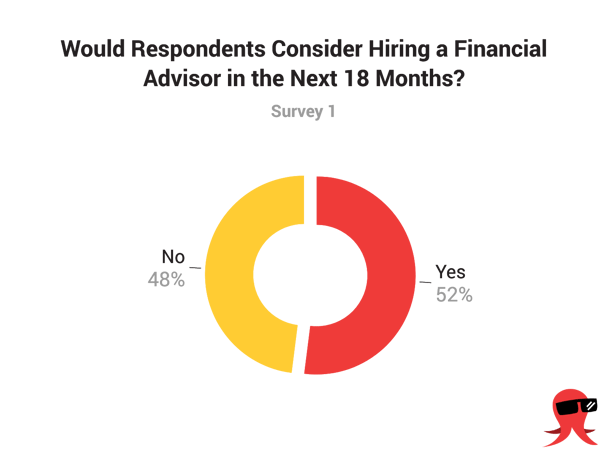 M

any HNW investors report they are already working with a financial professional. If they are interested in seeking a new advisor, they may not be getting what they need from their current advisor.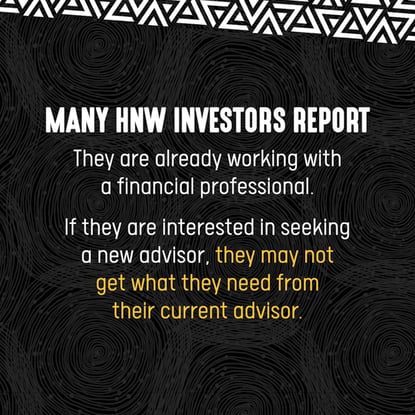 (There's data to support this hypothesis. Our second survey found that 5.8% of respondents were actively unhappy with their current advisor.)

This insight offers both opportunities and threats to advisors. Recessions and volatility are critical times to be even more present for your clients, so they feel heard, understood, and cared for.

Satisfied clients can also be a great source for referrals to friends and family members who want a second opinion on what their advisor is (or isn't) doing.

Prospecting using recession-themed campaigns can help identify prospects who are looking to switch advisors.
Many HNW Investors Are Now Open to Hiring an Advisor

In our second survey, we drilled down into whether respondents were currently working with an advisor.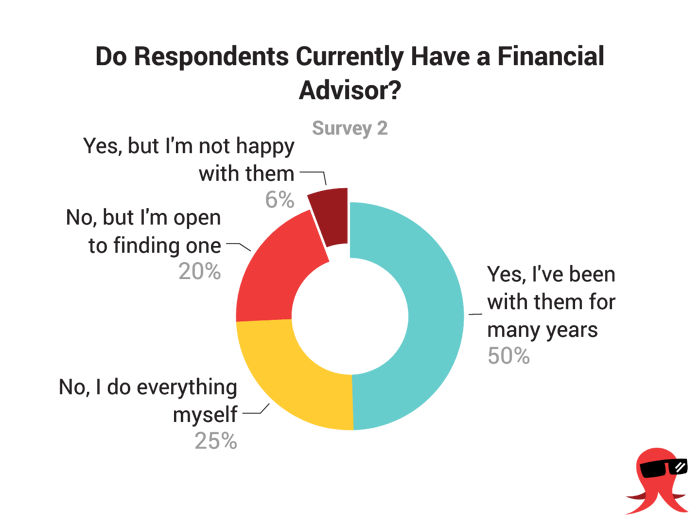 Unsurprisingly for this high-income pool, over half responded "yes." However, a notable percentage (20%) said that they are not currently working with an advisor, but would be open to finding one.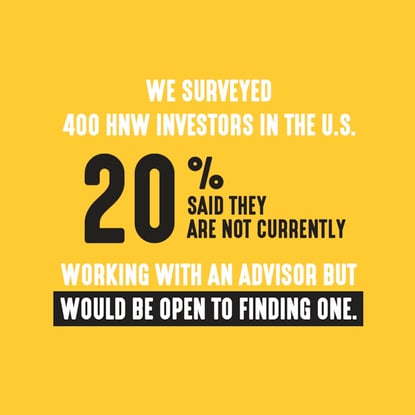 A desire to find a financial advisor makes sense in the context of a bear market. Everyone feels like a genius when markets are climbing. The true (and perceived) value of an advisor is most visible when portfolios plummet. Smart advisors take advantage of that fact.
Recommendation: Consider targeting prospects or referrals with a very simple offer that makes it easy and judgment-free to engage with you. Examples: A Recession Strategy Session or a Portfolio Risk Review.
Worth noting: Many respondents note that "time" is a factor preventing them from seeking advice.
Recommendation: Make it easy for prospects to book an appointment and pre-address time objections by highlighting how fast and easy it is to work with you.
HNW Investors Are Worried, But Don't Want to Admit It
After reviewing all the free-form survey responses, we learned a few surprising (and not-so-surprising) things.
A fascinating psychological pattern showed up over and over again in the responses. Many respondents report that they wouldn't panic about recessions or downturns but then say they would be a lot calmer if they never had to worry.
It appears high-income respondents don't want to admit to experiencing fear, but already have a current of anxiety bubbling beneath the surface.
Many responses show a recurring theme of the desire to wake up feeling calm, with less anxiety, and to stop worrying, indicating that there is an underlying feeling of distress that advisors should be addressing with their clients.
Advisors who fail to address their clients' unspoken fears might lose them to competitors who understand the powerful emotions brought on by economic and market challenges.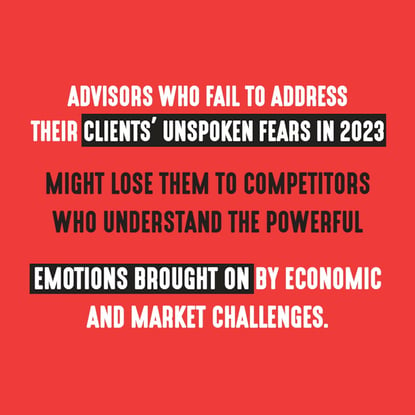 Many respondents use words like "contented," "happy," "peaceful," and "calm," to describe how they would feel if they didn't have to worry about recessions affecting their investments.
Recommendation: Highlight psychological and emotional transformation in your marketing to show prospects what they can expect when working with you.
Why? Our brains are programmed with a vast array of triggers and preferences. Our research shows that copy and imagery that speaks to the emotional brain vastly outperforms the bland and boring financial marketing most investors are used to.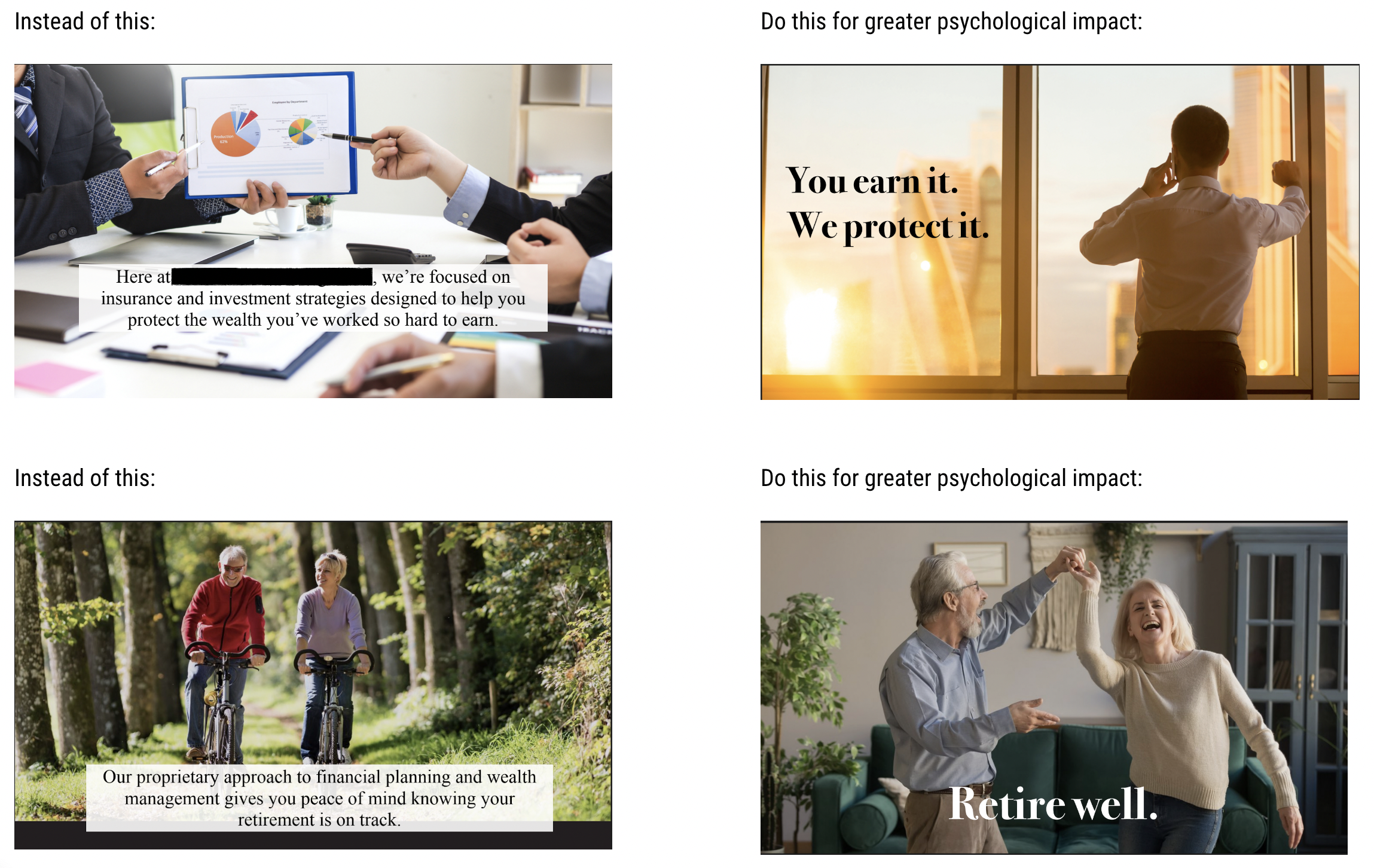 Other insights from survey responses:
Respondents seek certainty and predictability. They want to know how long a recession will last and what to expect (and whether they'll be ok).





A surprising number of respondents say they don't worry much about markets at all. Some claimed they would only worry if the market drops more than 20% or more.





An interesting subset indicated that they experience excitement at market drops because they view them as buying opportunities.





Respondents who feel confident about current markets and recessions still express worry about inflation, postponing their retirement date, reducing their lifestyle expenses, and where to put their money ahead of their planned retirement. Some would reduce international travel (even when they said they weren't worried about money).




There is a level of arrogance and ego in some responses. A sort of "I'm so educated, all my accounts are perfectly planned" attitude.



Partisan political feelings are apparent in how some respondents assign blame to government policies for market and recession woes.





Many retirees with a high income or asset level don't seem to be very worried about a recession or bear market impact on their lifestyle. Rather, their goals seem to be to grow wealth AFTER retirement, leverage a recession, and either leave a legacy or give more to their children.
Some respondents indicate that a recession or extended bear market could cause them to:
Delay retirement

Travel less

Dine out less

Give less (or less often) to kids

Donate less

Cut back on luxury, hobby, entertainment, and other discretionary spending
How Can This Data Transform Your Recession Marketing?
Acknowledge & address fears: Take the time to dig deeper during client conversations to get to the root of any unspoken worries or anxieties. Sharing your own stories, other client stories, or mining this survey for language can help your clients feel safe in airing deep-seated worries.
Be present and visible: Send friendly check-ins through email and text messages so that clients feel cared for, even when there are no financial updates to share.
"Orchestrate" referral requests: Include referral requests in email P.S. messages or your email signature to make it easy for clients to refer friends and loved ones. Consider adding regular referral request emails to your client communication schedule.
Target prospects with recession content: When times are good, people often don't feel urgency to make changes to their strategies. Tap into the urgency created by recessions, bear markets, and tough economic times with recession-oriented content.
Address the desire to know more with your events: Webinars, seminars, and educational events are a great way to keep clients informed and showcase your role as the expert. They're also a great way to focus on investor desires for control and predictability.
Send quick check-ins by SMS: SMS is one of the fastest-growing and least crowded marketing channels. Leverage texting to send short check-ins and drive traffic to recession content.
Want to Download the Raw Survey Data?
Get access to the full CSV of survey responses so you can filter and drill down to extract insights from your specific target market.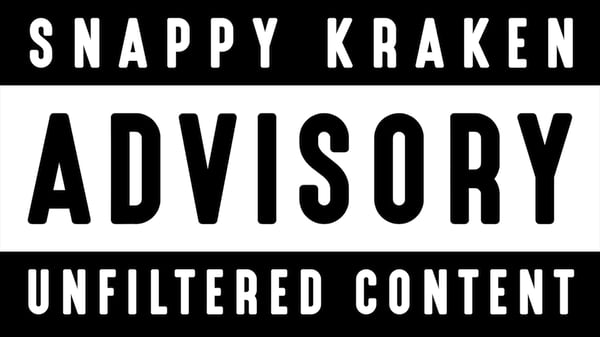 Content Advisory: We haven't redacted or modified any of the survey responses, so you're getting it just like we did – full of powerful insights, weird answers, and even some unhinged rants. It's a peek into the unfiltered thoughts of wealthy Americans and we're so here for it.
Why Does Snappy Kraken Survey Investors?
We conduct deep audience research as part of the strategy behind each of our campaigns. Open-ended survey questions help us get the "voice of the customer" we need to create compelling messaging that echoes the conversations prospects are already having internally.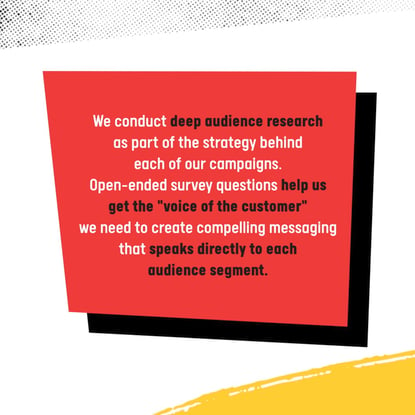 Regularly talking to your target audience is one of the most powerful ways to build messaging that speaks directly to their needs, emotions, and desires. It's also an ideal way to identify any surprising triggers that might bring prospects to your door.
We use this survey (and others) to create marketing campaigns that tap into audience needs, wants, and desires, including our Retire Confidently In a Crash Lead Generation Campaign.
Get a Behind-the-Scenes Look at Every Step That Goes Into One of Our Award-Winning Campaigns
DISCLAIMER AND COPYRIGHT
The data in this study was developed from paid surveys conducted in Q3 and Q4 2022. While survey responses are believed to be reliable, and reasonable efforts have been made to ensure the accuracy of this data, Snappy Kraken makes no representations or warranties related to the information in this report.
Survey responses are self-reported and may not be accurate or statistically representative of the entire market. The material in this report is copyrighted by Snappy Kraken. Information contained in this report may be referenced or shared for educational purposes, though Snappy Kraken must be clearly identified as the source, and hyperlinks to snappykraken.com must be included whenever sharing information from this report online.
Wondering if Snappy Kraken is right for you?
Done-for-you content
Easy Automation
Proven Results
Cold to Gold Framework
The Cold to Gold Masterclass is your marketing manual. It shows advisers the proven framework for keeping their pipeline full, the types of campaigns that warm up prospects the fastest, and what the top 25% of advisers do differently in their marketing.
Read Full Program
Robert's Masterclass
The Blend Out Masterclass is your predictable and scalable framework, proven to give you results. In this series, Snappy Kraken CEO, Robert Sofia, will give you 3 powerful memory aids to hijack your brain, the one major factor that separates success from failure, and more.
Explore Classes